Joined

Dec 31, 2020
Messages

5
Reaction score

3
Points

3
Location
Printer Model

Canon ix6820
Hello and Happy New Year
I read this thread, it's similar to my question, only it refers to a different Canon printer. https://www.printerknowledge.com/th...g-to-refillables-pgi-550-cli-551.10724/page-2
​
This is my first post on here. I have a Canon ix6820 printer and I would like to just replace the CLI-251 Black ink cartridge with an empty cartridge and fill it with special (formulated for Canon) UV blocking black ink for making transparencies.
I purchased this ARC Empty Refillable set from ebay and I'm waiting to fill the "BK" cartridge with the expensive ink until I can be sure that I'll be able to use it.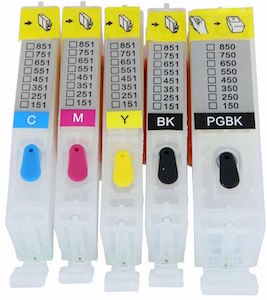 I don't have the other colors of ink to fill the rest of the empty cartridges. I don't really want to fill these with ink just so I can use the "BK" cartridge. If all these cartridges need to be used together, is there a safe fluid that I can fill the rest of the cartridges with instead of generic ink?
Also, nearly all of the aftermarket/generic ink that i've seen offered for the Canon ix6820 comes with CMY and 2 identical bottles of the same black ink. Are they telling you to put "DYE INK" in the "Pigment INK" tank?
When you buy the "pre-filled" generic cartridges from ebay, amazon, etc, do those come with "DYE INK" in the "Pigment INK" tank too?
If a single "ARC Cartridge" is unusable......
This will be a Gigantic Pain in the ASS, but I'm thinking of emptying a fresh authentic BK CLI-251 XL cartridge and refilling it with the uv blocking ink.
Or buy a used empty authentic cartridge and replace the chip.
https://refillbay.com/product/replacement-chip-for-canon-cli-251.php
I'm also wondering, do "XL" replacement chips for an authentic Canon cartridge work on regular "non XL" authentic Canon cartridges?
Thank you in advance to anyone that chimes in
Last edited: