Joined

Jan 10, 2021
Messages

18
Reaction score

2
Points

13
Printer Model

Canon Pro 100
Recently I have been noticing that my printer (Pro 100) will now have an issue where after it sits idle for a while it will print one or two pages well, but then after it will start to have streaking (typically in the same area).
If I let it sit and run a nozzle check it will come back perfect, if I then run a cleaning or print a full page, and print another nozzle check I get an obvious streak on the M channel currently.
I am running OEM ink, all new cartridges.
This is after sitting for a while
\/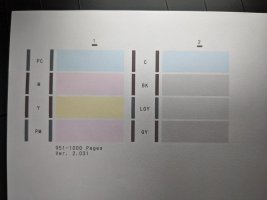 This is after one cleaning cycle
\/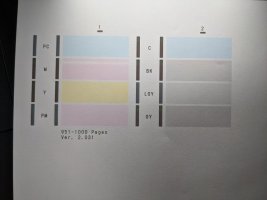 (these were done less than a min apart just a cleaning cycle between them)
Any help will be much appreciated