Joined

Jan 18, 2010
Messages

12,385
Reaction score

6,022
Points

413
Location
Printer Model

Canon/3D, CR-10, Ender-2, KP3
What I take from most guys unwillingness to use Adobe products is mostly from the cost of these Applications, it once was expensive and prohibitive to own these Application but not anymore.
Learning Photoshop admittedly is a daunting task when you only want to edit your photos properly, but that too can be overcome easily, you just need the right starting place, even if it's not in ones DNA.
I came across this small booklet years ago on how to use
Photoshop in easy steps
which I used to introduce Photoshop to my grandson, it's not your average booklet for learning, it's easier than that and anyone can pick it up quickly. (No joke)
I would recommend this booklet to anyone who has a keen interest in learning "HOW" but always found it impossible to get anything done and so dumped it, or just didn't bother.
Using Photoshop for everyday things and more can be accomplished if you read and use this booklet and best of all, you don't even need the latest Photoshop either in fact any old Version back to 7 will work fine and can be gotten free I am told from the web. (License free)
The ISBN number of this booklet is: - 1 – 84078 – 276 - 5 and it retails at about tenner (Or Amazon) and is worth every penny, once you read this booklet you'll become an accomplished user...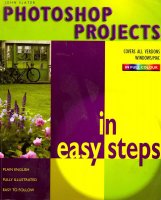 Click to enlarge..