Hi,
I've been printing and enjoying some photos and after I wanted to perform a bottom plate cleaning, I couldn't because of the following error 4100 below.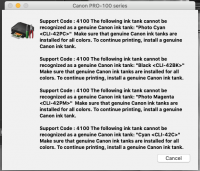 I shut down the printer and re-started it but I was still getting the error. I tried printing a photo and it worked, then I said let's repeat the bottom plate cleaning and it worked. I did reset successfully all carts during my last refill and I only got this error after I printed few A3+ and 4 US Letter photos... some in color and few in B&W. Somehow Canon can detect the carts were modified (top fill by removing the ball) even though I've reset them successfully using the supplied PC resetter. In total I think i've reset those ones 3x.
Any ideas or suggestions if this is serious or just ignore ... thank you.
MacOS Canon Pro-100 driver 16.41.0.0