Joined

Dec 27, 2014
Messages

3,276
Reaction score

3,488
Points

273
Location
Printer Model

L310/805/1800, P400, Pro7600
I placed a 4 color CMYBk patch set with the EV6 inks into the sun, for 30 days, together with other targets for the paper fade tests.
The black fades into a kind of light brown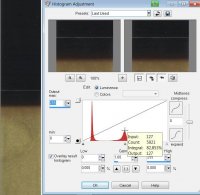 The luminance histogram of the exposed and unexposed part of the black patch is displayed,
this Paintshop program allows me to read the peaks at the cross hair cursor position, the peaks differ by exactly 100, accidentally. I call this the SEED - the Summer Equivalent Exposure Dose for one month - UV and ozone and humidity all together. Using like patches in the future together with new targets - I'm not sure that I won't run more fading tests in a while - will allow me to measure the actual exposure dose by comparison to this one, so I can compare results of tests which don't run parallel at the same time. And it allows me to measure and compare other places like the fridge door in the kitchen.....The reading with the scanner is quite accurate overall, the variance is +-1 when scanning and reading the patches repeatedly or tomorrow again, this relates to the horizontal luminance axis from 0-255, so a delta goes with a +-2 digit tolerance.
Last edited: