Printer Master
Platinum Printer Member
Joined

Dec 27, 2014
Messages

3,668
Reaction score

4,072
Points

283
Location
Printer Model

L310/805/1800, P400, Pro7600
We have disussed SSD's in detail in this thread
https://www.printerknowledge.com/threads/which-ssd-to-buy.13327/page-13#post-115624
focussing on speed, capacity, technology, health etc; I would like to add some info about using such flash/SSD memory devices.
About all computers - desktop, notebook etc come with USB 3.0 connections - 1 or more, or with a smaller USB 3.1/type C connector, and the USB standard is evolving to higher connection speeds and adding more complex setups for the supply of power to the connected devices or charging the notebook at the same time. It may not all work as the USB standard implies, I just like to have a look to the effective transmission speed to yan get with various devices and types of connections.
I'm using a Samsung 850 EVO 500G SSD for some tests, this drive runs at 450/420MB/sec R/W in my desktop computer on a SATA connection, the computer is pretty old, I take these numbers as a reference for further tests.
I'm using the Atto DiskBenchmark software for the test of the transmission speeds with these settings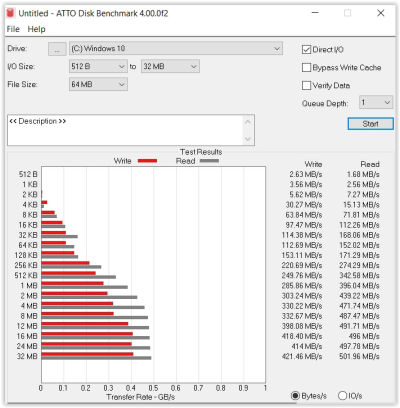 Much higher values of the I/O and file sizes are possible, but these settings already show how the speed is leveling off in the Megabyte range; I just do one cycle for these tests (the diagram shows the speed of a notebook I will refer to later)
Connecting a SSD to a dektop computer is one thing, a few cables to the mainboard and that's it.
If you want to use a SSD for portable use, or connecting it to a notebook, via the USB 3.0 port, you need an adapter SATA to USB 3.0 or 3.1, some adapter like these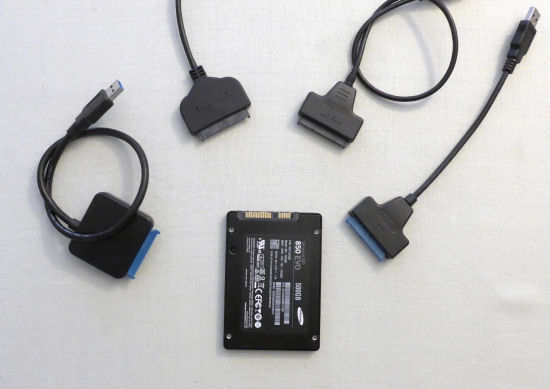 The all have a SATA connector on one side and a USB 3.0 connector on the cable, with a blue plastic insert in the connector, power is delivered via the USB connection to the adapter electronics and the SSD drive. All adapters come from Far-East - Ebay or Alexpress or similar, there are no signs and indications for the actual manufacturer, no name, partnumber or else.
The above Atto test diagram shows how my notebook is performing on the USB connecctions, I'm using a M.2 SSD card in a small external drive case with an USB connection and I get 500/420MB/sec R/W speed which is pretty good for a 12" 200€ notebook.
When I now connect the above Samsung SSD via the adapters to the USB port I get these numbers - from left to right 33 - 58 - 120 - 250 MB/sec for the reading speed , a huge variance between these adapters.
You just don't know what you get when you order such a SATA to USB 3.0 converter, the product description does not tell you, the seller just promises USB 3.0 speed so you can be happy if you get a speedy version or you feel cheated with a fake USB 3.0 converter. I argued with some suppliers about that, with some limited success, it's just 5-10$ items, and some suppliers did argue for weeks. the problem is with Ebay or Aliexpress that the transfer speed is not part of the product description so you cannot just claim that the product does not meet the spec/description.
Please let me continue with some other USB hardware in the following posts.