Printer VIP
Platinum Printer Member
Joined

Dec 27, 2014
Messages

5,478
Reaction score

6,530
Points

353
Location
Printer Model

L805/1800, Pro7600, WF2010,ET8
I did a few more profiles on the ET-8550 - with the 106 inks of the ET-7750 - for the Canon PT101 - HP Premium Plus Photo Paper - Aldi Netbit - Aldi Sihl/0769 - and a Glossy 240 RC/PE paper via Ebay, the gamuts of all profiles are very similar at mid luminance of L=50, they pretty much overlap with small variations.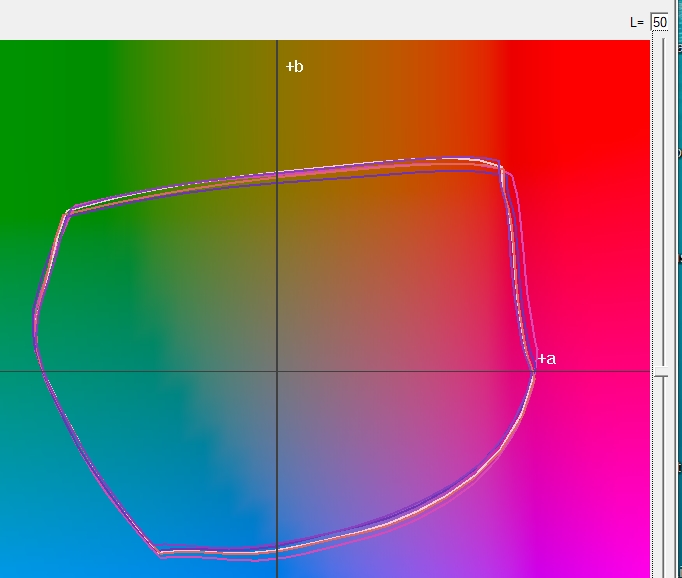 This congruence remains pretty much across the complete luminance range from black to white, there are some differences with the white points since the amount of OBA's in these papers varies pretty much - the PT-101 has the most and the HP Premium Plus paper barely any , the OBA content of the other papers is somewhere in between.
This is an interesting effect that such different papers come out with very much the same gamut on the ET-8550, I can see somewhat wider differences on the L1800 for some reason.
I typically print the patch sheets with the driver option setting - 'Color management off' which delivers the most ink to the paper, but this is too much for the Sihl/0769 paper, wet spots remain after print in the darker areas with mixed colors. And this happens for all glossy type papers which can be selected in the driver. I'll try to find another driver setting when I'm going to print with this paper on the ET-8550, I don't have this effect on the L1800 with the same 106 inks.