Printer VIP
Platinum Printer Member
Joined

Jan 18, 2010
Messages

15,112
Reaction score

8,290
Points

453
Location
Printer Model

Canon/3D, CR-10, CR-10S, KP-3
I finally got the time to tackle the problem I had with my Pro 10, I was able to remove the top cover from the beast and to see exactly what the issue was that was making the print head stall on the left side and give a fatal error..
The timing strip on the left hand side on this printer is attached directly onto the chasse and not by a spring in most cases and the hook edge is fairly sharp which slashed a piece of the timing strip where the mounting hole is located.
It was only a matter of time before the timing strip broke and fell off and that would have cause all sorts of issues, it was hanging on by its fingernails and was twisted on the last 60mm, so the print head couldn't read it properly..
I was able to put some electrical tape over the hole on both sides and that was strong enough to hold the timing strip in position, and when I tried a test print the problem was now gone, no more grinding noise..
While I was there I tried to remove the purge unit to fit a Printer potty but couldn't get the unit out no matter how much I jiggled it, so I put the screws back in and just left it, without removing the purge unit I could see the outlet tubing properly..
Once I had the top cover back on and the printer back in its place, I decided to try a few prints just to see if she was working without any issues, I know one thing the Pro 10 is very difficult to work on and is not a patch on the Pro 9500, user friendly the Pro 10 is not, its progress gone backwards..
I decided to do a few test colour prints, that will be covered later on another thread..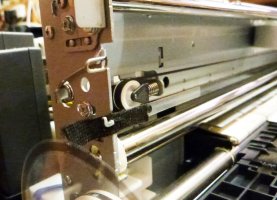 ...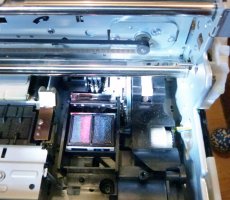 Last edited: