I have a Canon Maxify MB5120. Every time you open the paper tray, such as to add paper, the printer wants you to "register" the newly added paper to make sure the paper settings in the printer match the paper you just added.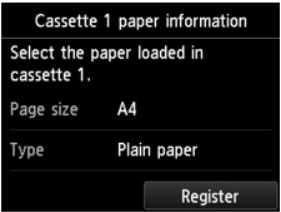 I wondered if I could outsmart the Maxify registration process by adding paper while the printer was turned off (but still plugged into the Mains).
Nope, it only made things worse by admonishing me for opening the paper tray while the printer was off (sorry, no image available) and required me to first click off that screen so I could then get to the registration screen as usual.
Moral of the story... trying to outsmart a smart printer is not smart.