Joined

Dec 27, 2014
Messages

3,472
Reaction score

3,765
Points

283
Location
Printer Model

L310/805/1800, P400, Pro7600
I did some printer resolution tests a while ago
www.printerknowledge.com/threads/the-epson-rpm-quality-option-does-it-offer-a-benefit.12934/#post-111666
using the Roger N. Clark test pattern which you can find in this article
www.clarkvision.com/articles/printer-ppi/
at the bottom of it
You can find much more information about printing, resolution , profiling etc in many more of his articles
www.clarkvision.com/articles/index.html
I printed this test pattern with the print resolution of 600 dpi which is the genuine resolution for Brother printers
using Qimage with the settings 'Use ORIGINAL/embedded size - Override embedded size with 600 dpi'. These settings create a print of 24mmx13mm, about half of a stamp.
I took some macro shots of the printed pattern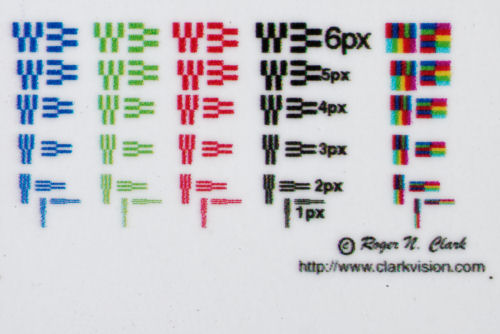 and cropped them to the bottom right corner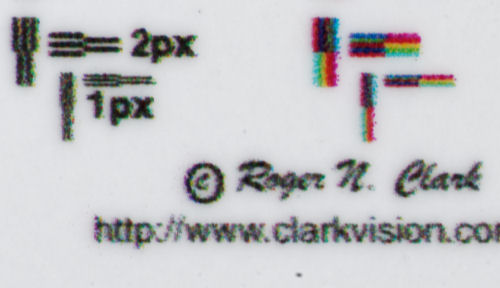 The 1px lines are actually 1 pixel wide - 1/600 inch - and they separate quite well for the horizontal lines, not so much for the vertical lines, here the vertical 2px lines - 2 pixels wide - start to separate. The printer is an age old DCP-195C, a budget level printer about 10 years ago, the last printer model without chips on the cartridges.
The driver settings are - other photo paper - quality extra fine. Printing takes a while, but measuring printing speed is not part of this test.
I think the print resolution is quite impressive, the text is easily readable.
I'll add a few similar shots of Epson printers to this posting in the next days with widely varying results.
Last edited: