Printer VIP
Platinum Printer Member
Joined

Dec 27, 2014
Messages

5,738
Reaction score

6,827
Points

353
Location
Printer Model

L805, Pro7600, WF2010,ET8550
Epson has announced a new Ecotank printer ET-18100 as an Ecotank version of the older 1400/1500W A3+ photo printers, this printer comes wtih 6 inks incl. light inks like the predesessors, this printer model comes with a new inkset 107. I could do a comparative fading test of the 107 inks vs. the 106 inks of the ET-7750 which is on a market already since several years, the 106 inks are performing very well as various tests some time ago have shown. I happened to get a cartridge load of 107 ink by a member of the German Druckerchannel forum which let me do this test in comparison to the 106 inks. I'm only testing the CMYK base color inks, not the light colors, and I'm printing the patch sheets on a WF2010W which let me easily swap cartridges with all the inks for testing.
Here is the result showing the deltaE diferences of the color patches after 3 weeks exposed to the current sunny weather, the table is showing the DeltaE average of all patches, and the values for the CMYK patches individually - both for the 106 and the 107 inks as 106/107 values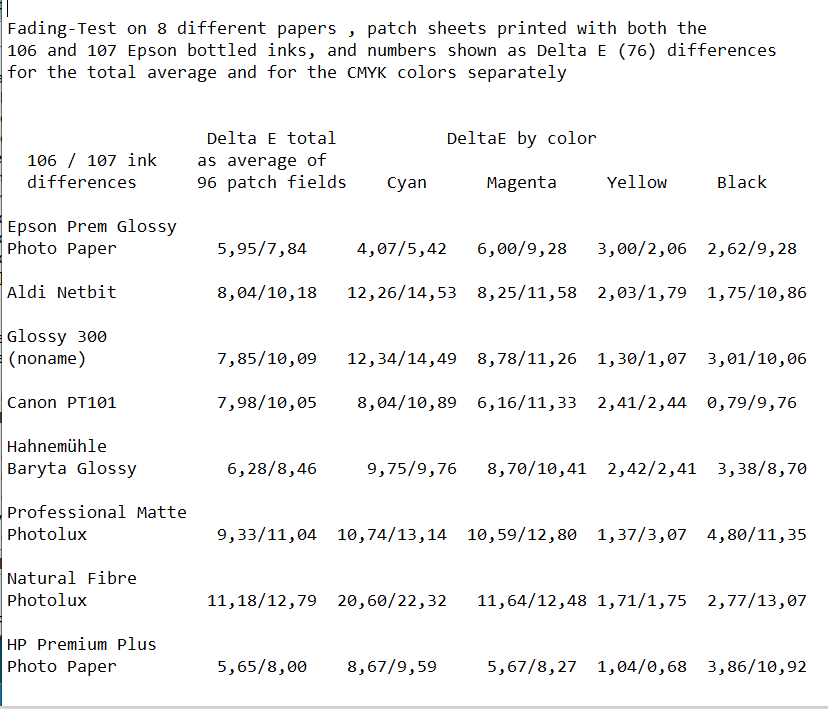 The 107 inks are overall weaker than the 106 inks - except for the yellow ink which is more stable on various papers . And the table shows again the large impact of the paper type onto the overall fading stability, you cannot rate the fading of an ink w/o referring to the paper used for a particular test.
Last edited: