Joined

Dec 23, 2006
Messages

607
Reaction score

4
Points

136
For those of you that have a Canon MP730 printer, The service manual has instruction on how to get into "Test" mode and from there you can go to 8 different sections. They do a terrible job in the Service Manual and they purposely don't tell you what each one of the sections really do. This is information that is passed in classes taught only to Canon Service tech.
One of my customers that purchased one of my Repair Manuals for the MP730 was totally puzzled in trying to decode how to print the standard Service Test print for this printer. I sent him the answer but I also told him what to watch out for. The inside guts of the MP730 printer is really built on top of the Canon i850 printer base and electronics. Of course all of this is re-designed, layed out, and repackaged so it does not look anything like the electronics in the i850. However, when you print out the Service Test Print from the MP730 control panel, the very top line of the print will say;
i850 V0.06 USB(xxx) BK(+2)C(00) FA=03 00 00 D=007.8 CDR (--). To test this yourself here are the step;
Press the MENU key, then the COPY key that is lit in Green, then the # key. Your little display should show TEST MODE. When it settles down in test mode, press numeric 3 key and wait a couple of seconds. Then press the numeric 1 key and wait for the printout. It should look lile this;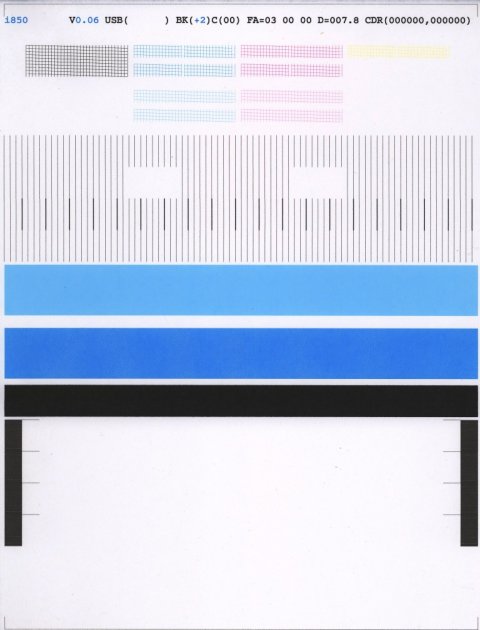 So the question is, how does the Service print information come out to say i850. The answer is the eeprom was not updated correctly and once these printers where shipped, Canon has never EVER wanted to update the EEPROM. I guess they figured this was no problem because there was really no example inside the Service Manual to show how to do this or what would happen. If there was they removed it, since it was easier to change the manual than to update the eeprom for each printer that was shipped. Let's see,.. it has been 7+ years this printer has been out, so I don't think they are going to do it anytime soon.
This is my MP730 that I use for FAX and printing on my 2nd system. I think they are one of the best printers. They are extremely hard to repair, but once you know how, and you have the patients, it is doable. They seem to last forever.