Printer VIP
Platinum Printer Member
Joined

Jan 18, 2010
Messages

15,327
Reaction score

8,466
Points

453
Location
Printer Model

Canon/3D, CR-10, CR-10S, KP-3
I've now got most of the spare parts I'd ordered during the virus outbreak and I have started re-assembling my Ender-2 again, I originally had intended to fit a bigger hot bed to make it 180 x180 but during lock down I purchased the Kingroon KP3 printer which had a 180 x180 sized hot bed. !

Now there's no need to make the hot bed upgrade but I already had plans to change the look of the Ender-2 in other ways, so as I put this menagerie together I will take a few photos as I make progress and hopefully I'll end up with a functioning printer that not only looks different but prints better too..

Here's how the original Ender-2 printer looked when new, then for my first upgrade I only moved the control box and that was the start.

The next upgrade was again moving the control box to an upright position, added a second rail to the hotbed and a new nozzle cover (Fang) and fan and changed the position of the micro stop switchs.. The Nozzle Fang was @Redbrickman idea..
1)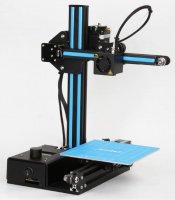 2)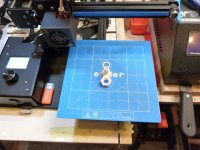 3)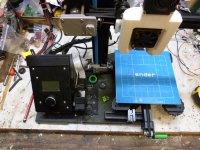 clickto enlarge...
Progress on the new rebuild will not be quick so it may be some time before I can come back with the printer complete and running !, either ways I'll still report back, whether it's good or bad news.. I started this rebuild back in February, so I'm anxious to see it complete ..
A week ot two more will see it finished, and I'll include a good few pics of the lady..