Joined

May 9, 2010
Messages

1,052
Reaction score

737
Points

263
Location
Canon's answer to Epson's L-series is the Pixma G-series with in-built CISS and ink bottles instead of cartridges:
http://www.canon.co.za/printers/inkjet/pixma/pixma_g1400/accessories.aspx
Sadly it's an ink set without photo black... but I remembered a IP3000 not printing much different than a IP4000. Mixing the black by using C-M-Y don't have to result in poor B&W, in practice it depends on the art of mixing. Besides the amount of black ink drops in a B/W photo of a C-M-Y-K printer is pretty small.
So I got a ip3000 in good condition for around 30€, two new printheads for stock - which fortunately are still available new from canon, and ordered the "Canon GI-490" bottled ink set.
This may be hard to find, as the printers it's primarily for other markets than Western Europe, but finally I received one set.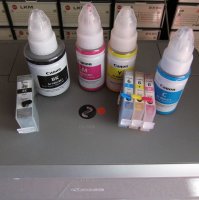 First prints are fine, it seems to match the BCI-6 colors better than other compatibles, if you do it without profiling. And on my first three different papers the ink seems to print out fine regarding the surface, no paper-ink-mismatch or other issues.
I will do some testing, with profiles, and - most important - a fading test under UV light. To compare the light fastness with other compatibles, including epson/fuji drylab ink.
I'm very curious, because until now I haven't found any compatible ink for canon dye printers which is as light fast as fuji DL..or at least comes close to..