Printer Master
Platinum Printer Member
Joined

Dec 27, 2014
Messages

3,758
Reaction score

4,175
Points

283
Location
Printer Model

L310/805/1800, P400, Pro7600
I overprinted profile target sheets with a Gloss optimizer/Epson - experimentally - to check for an assumed impact onto the fade performance of dye inks - yes - it does. But there is another question remaining - how does a GO overprint impacts the overall gamut of such practice.
I'm using I1Profiler with an i1iO scan table for profile generation and tpyically use a sheet with 1100 patches on one sheet, that scans within a few minutes.
When looking to the gamut with or w/o a GO overprint I get this at L=25%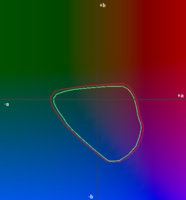 The outer red line shows the gamut of a typical dye ink on a glossy paper, in this case a HP premium glossy photo paper, this sheet got overprinted with GO on a R800,
and the green line shows the effect onto the gamut volume, it is slightly reduced, about equally across all luminance values, the total voume is reduced by about 8%. The black point is this case raises from L=5% to L=6%. The look of such print is slightly different to a print without GO, but only visible in direct comparison, this slightly reduced gamut volume is not visible in actual printouts, it only affects the saturated colors differing slightly. The results are very similar with other dye inks, and on a range of other papers, the GO might improve the fading performance of the inks but slightly reduces the available gamut, and the overall look is a matter of personal taste.
I'll soon post a similar look to pigment inks with/w/o GO.
Last edited: