Joined

Dec 7, 2010
Messages

16
Reaction score

1
Points

24
Hi
Im owner of Epson photo 1400 inkjet printer for about year. Using CISS all time.
Yesterday, suddenly printer refuses to recognize ink cartridges (all of them). Red lamp is lighting for ink.
So far I have tried :
1. Tried pressing CISS button several (in ink change process)
2. Tried to turn off printer for some time, turn it again, nothing,same problem
3. Tried to reset it with adjustment program (ink waste pad reset, inital reset), same problem.
4. Tried to replace ink cartridges, compatibles, also tried 791-6 Refillable Cartridges, nothing (these cartridges are tested in P50, working perfectly)
5. Tried several youtube tutorials, nothing
6. Tried to replace CSIC (taken from RX585) since they have same connector, nothing
7. Tried to disable "status monitor"
8. Tried to update the firmware (older one), still same problem
9. Tried the
websnail
s metod, didnt solve problem
10.Replaced motherboard , problem is solved.
But,one strange thing, as soon I remove one cartridge (no matter witch one), status monitor "cartridges information" give me error that only one is missing,and reading other five ok.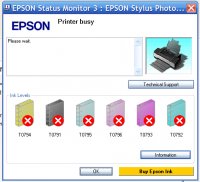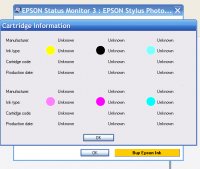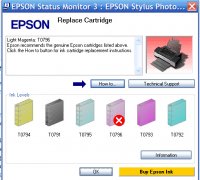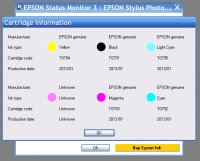 Also, i have AR1273 firmware.
I have read here about firmware update, how can I do this
http://www.printerknowledge.com/threads/epson-1400-firmware.7056/
many thanks !
Last edited: