Today we've got a parcel from Konica-Minolta, their new MYIRO-1. It is for the first time that Konica-Minolta enters this part of measuring devices. The goal seems to be clear, taking over at less a part of the business in entry level devices. Until now there was only Xrite to provide "affordable" devices with their i1Pro series. That will change from january on (official date of release).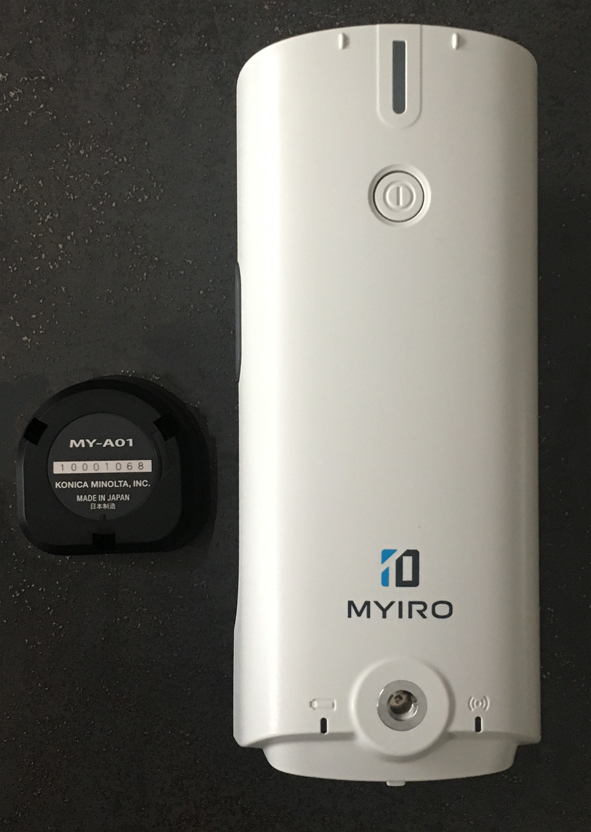 The beauty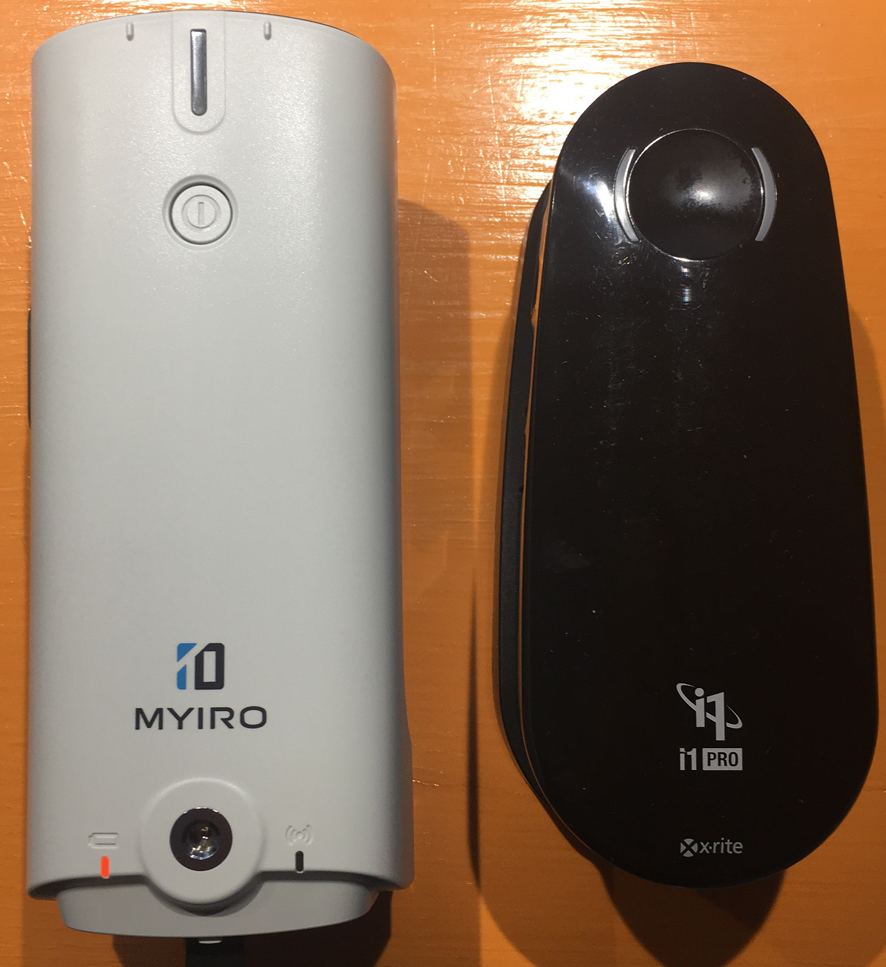 compared to Xrite i1Pro2
As their responsable for Europe told me, there is the same technology inside as in their FD range. They are produced in Japan (not in China as the i1Pro) with the same quality standards as all the other devices from Konica Minolta. And they can be operated wireless!!!! The specs:
​
Illumination/viewing system
45°a:0° (annular illumination)*1
Spectral separation device
Concave grating
Wavelength range
Spectral reflectance: 380 to 730 nm
Spectral irradiance: 360 to 730 nm
Wavelength pitch
10 nm
Half bandwidth
appr. 10 nm
Measurement area
ø 3.5 mm
Light source
LED
Measurement range
Reflectance: 0 to 150% / Density: 0.0 D to 2.5D
Repeatability
Colorimetric: Within 𝞼∆E00 0.05
(When white calibration plate is measured 30 times in 10-second intervals after white calibration has been performed)
Inter-instrument agreement
Within ∆E00 0.3
(Average of 12 BCRA Series II color tiles compared to values measured with a master body under manufacturer's standard conditions)
Measurement time
(single-point)
Appr. 1s
Measurement conditions *2
M0, M1, M2, User-defined illuminant
Observers
2° Standard Observer, 10° Standard Observer
Status indicator
LED to indicate instruments status
Interface
Wireless LAN (802.11 b/g/n); USB 2.0
Scanning measurements
Scanning of color charts under all measurement conditions in one single scan
Power
USB bus power; Rechargeable internal battery
Dimensions (WxDxH)
73 mm x 171 mm x 71 mm
Operating temperature/humidity range
10° to 35°C, 30% to 85% relative humidity with no condensation
Storage temperature/humidity range
0° to 45°C, 0% to 85% relative humidity with no condensation
*1
Illumination for wavelengths under 400 nm is unidirectional
*2
M0, M1, M2: Illumination conditions defined in ISO 13655
We will implement it to our software by the end oft this week or next week. Until then we will do some tests to have a direct compairaison to the i1Pro. But as i know both brands quite well I'm almost certain who will be the winner. I will post the results here when it is done.
The MYIRO-1 will be available in different packages, in the way Xrite does with their iProfiler software. I'm not allowed to communicate the prices, just let me say that the price will be close to the i1Pro range, depending on the software bundle.