Joined

Jan 18, 2010
Messages

12,576
Reaction score

6,227
Points

433
Location
Printer Model

Canon/3D, CR-10, Ender-2, KP3
I am trying to figure out the best way to mix colours into one of my project builds without Fubaring the final results....
1/... If I paused the print, I can then pull the filament out and replace it with another colour, but that gave me a little dribble of plastic (Nipple) when the printing resumed, other than that everything looked good.
2/...The next way was to snip the filament flush before it enters the extruder and then hand feed the next filement colour in (Without an angle cut) till it entered the Teflon tube on the far side, but if the filament alignments are not exact, then I got gaps in the print output, not good.
I would prefer to use the second method but still can't find a way of making sure I can get the filament to align correctly 100% of the time, and I was wondering if I should angle cut the hand fed filament instead of it been flush.
This one is using the first method....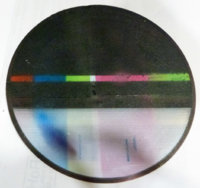 This one used the second method, the gaps are fairly visable..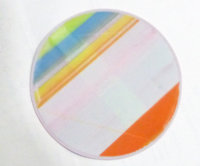 click to enlarge..
This one is still a work in progress... Needs more taught...
This is my current extruder set-up, maybe I need to upgrade for better results..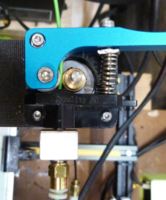 P.S. I should have used a square test rather than a circle and not started in black..