Printer VIP
Platinum Printer Member
Joined

Dec 27, 2014
Messages

5,687
Reaction score

6,764
Points

353
Location
Printer Model

L805, Pro7600, WF2010,ET8550
I cannot find any relevant information whether different inks may print differently in regards to the accuracy placing the ink dots onto the paper and whether inks can cause some nozzle related effects.
This is the CMY part of the nozzle check of my L382 Printer, Epson with tanks. I'm printing all that daily not so relevant stuff - internet and such, and with no regard to fading etc.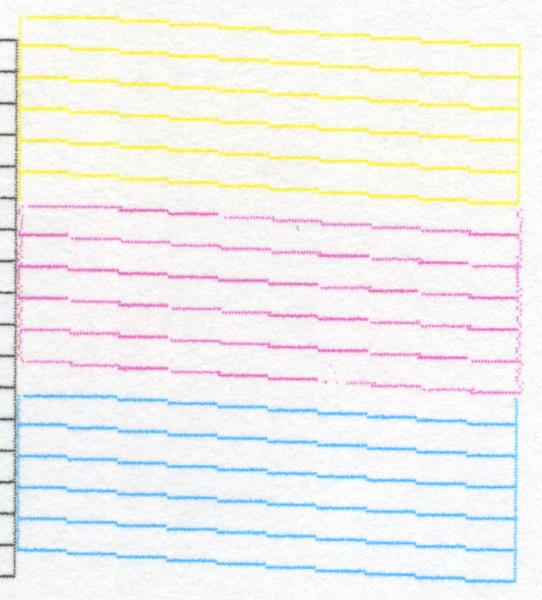 There are some irregularities in the magenta range - varying thickness of some short lines
(one short line per nozzle) with some dropouts, and the vertical border on the right side looks fuzzy as well. This is not an issue with the coding strip since the corresponding areas for cyan and yellow are clean.
I'm using an unkown mix of leftover dye inks from the past, InkTec, Octopus, China, the ink looks clean in a clear glass bottle, no particles, no signs of fungus or other contamination or deposit on the bottom of the bottle. The ink is printing, this is at 17 000 pages, but prints show signs of slight banding from those nozzles with different intensity. There is something impeding the ink flow. I made exactly the same observations with yellow, not visible anymore in this scan.
With the working assumption that these effects are ink related I swapped the magenta ink from this
mix to the Epson 106 dye ink for the ET-7750 (and earlier already for yellow)
This is the nozzle check of the same area after about 400 pages printed with this magenta 106 ink, with no other cleaning activity in between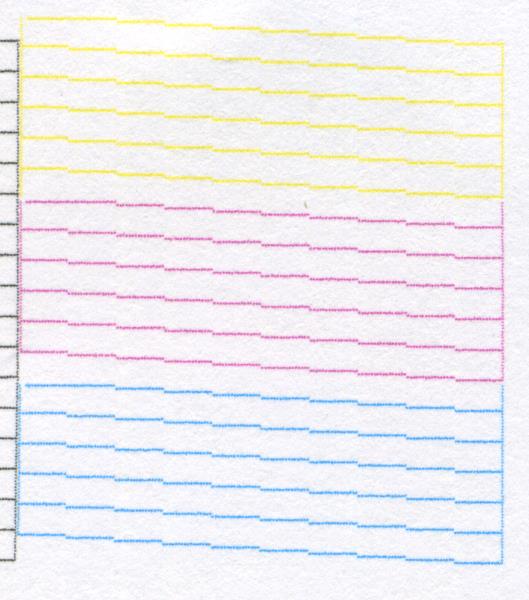 The previous irregularities in the magenta range are gone, the line thickness is
more regular and the right vertical border line looks more accurate and
microbanding in printouts on photo paper is gone.
This all is an indication for me that there is something with some inks - even
if all inks claim compatibility/suitability for Epson printers. Problems don't
show up when you start using a particular ink but thousands of pages later.
Edit: