Printer VIP
Platinum Printer Member
Joined

Dec 27, 2014
Messages

5,478
Reaction score

6,530
Points

353
Location
Printer Model

L805/1800, Pro7600, WF2010,ET8
I'm continuing here a specific subject originally raised in the ArgyllCMS thread how profiles compare created with different software - ArgyllCMS vs. i1Profiler with various patch field counts.
This thread connects to the other thread starting this slubject in postings # 427 - 475
https://www.printerknowledge.com/th...s-profiling-on-your-computer.8570/post-136740
One specific question got discussed which rendering intent assures most accurate color reproduction - rel. colorimetric or absolute colorimetric.
I'm continuing this subject here since it goes beyond the original subject of the ArgyllCMS thread. I have partially restarted the testing and use a small patch sheet with 14 gray fields - it's easy with measuring gray and to see whether they remain neutral or not - the a and b Lab values directly indicate any tint in the gray. I got a profile created for my L1800 with Netbit paper by
@pharmacist
, and I'm comparing this against a profile I created with the XRite i1Profiler package - with 2880 patches to get most accuracy - hopefully.
I printed the gray patches with both profiles - with the rel. col. rendering intent; the abs. col. rendering intent showed significant deviations in the previous tests.
There are 14 gray patches - incl. white and black with the RGB values listed in the left column and the corresponding L values - and b remain 0 for neutral grays.
I scanned these patches with these results: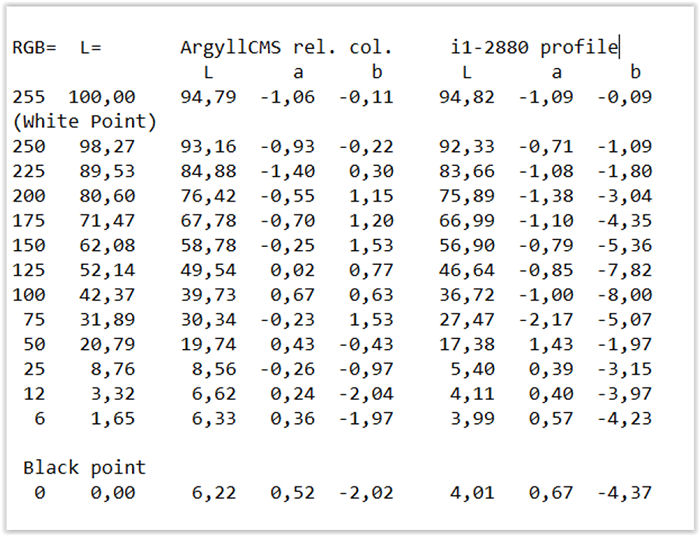 It is interesting to see that the gray axis with the ArgyllCMS profile does not deviate that much from the neutral axis as the values for the i1 Profiler profile do - there is a pretty strong overall tint into a blue white direction.
The gray patch sheet is printed with the rel. col. rendering intent with both profile options; the i1Profiler software offers an option 'Gray neutralisation' for the profile creation process, I turned up this option - it does not bring the gray values closer to neutral as the ArgyllCMS profile does. I don't know at this time which parameter is causing these deviations.
Last edited: