Printer Master
Platinum Printer Member
Joined

Dec 27, 2014
Messages

3,747
Reaction score

4,160
Points

283
Location
Printer Model

L310/805/1800, P400, Pro7600
I'm currently running a small test to check how much a gloss optimizer overprint on prints with dye inks changes - improves the fading of these inks.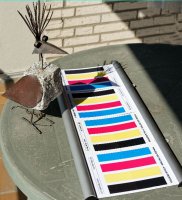 I printed the color bar patterns a few days ago, on 4 different glossy photo papers, first changes are becoming visible already after a few days - yes, a GO overprint improves the ink fading. I'll have some numbers to compare in a few days. The inks used for this test are a mix of various and no-name inks - OCP - Chinese - leftover of L300 inks. I may run a 2nd test with the Fujifilm DL inks later.
Using a GO overprint on dye inks is not typical, and Epson printers are not equipped for that, I'm using a printer running dye inks e.g. R265 or WF-2010W - and do the GO overprint with a R800 for these tests. There is another side effect - the GO reduces the sensitivity of glossy dye prints against fingerprints and changes slightly the overall look, darkens the colors and changes the look of the paper white. It would be necessary to run a separate icm-profile in such case.