Printer VIP
Platinum Printer Member
Joined

May 29, 2007
Messages

2,515
Reaction score

1,189
Points

313
Location
Printer Model

Epson SC-P800,WF-7840,XP-15000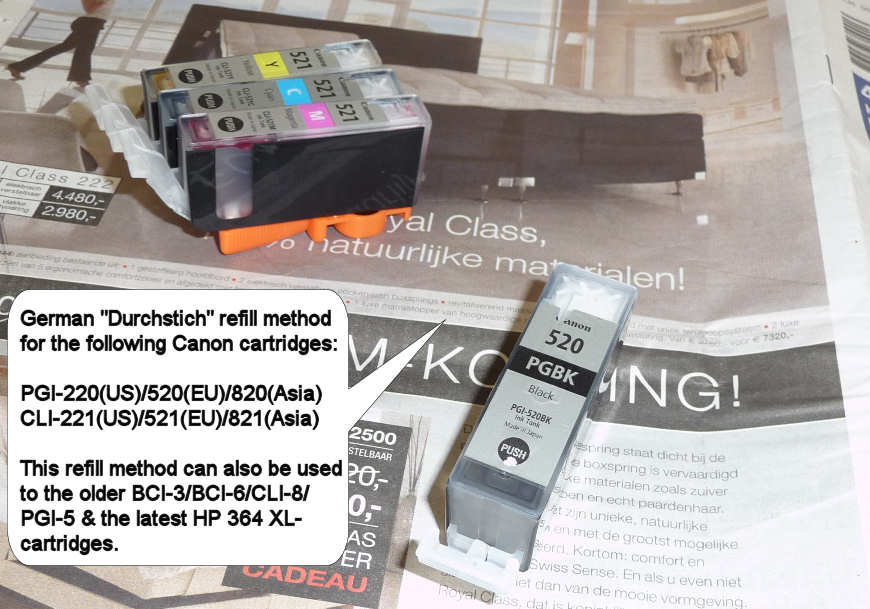 Towards the following picture I forgot to tell: if you experience any resistance when inserting the needle, do not force the needle with brute force into it. It is advisable to make drilling/rotating movements to overcome the resistance and to pierce through the sponge material. With sharp needles the chances of unexpected resistance is considerably lower. Forcing the needle with force -when you do experience resistance- can cause the sponge be pressed together, which will make your cartridge useless.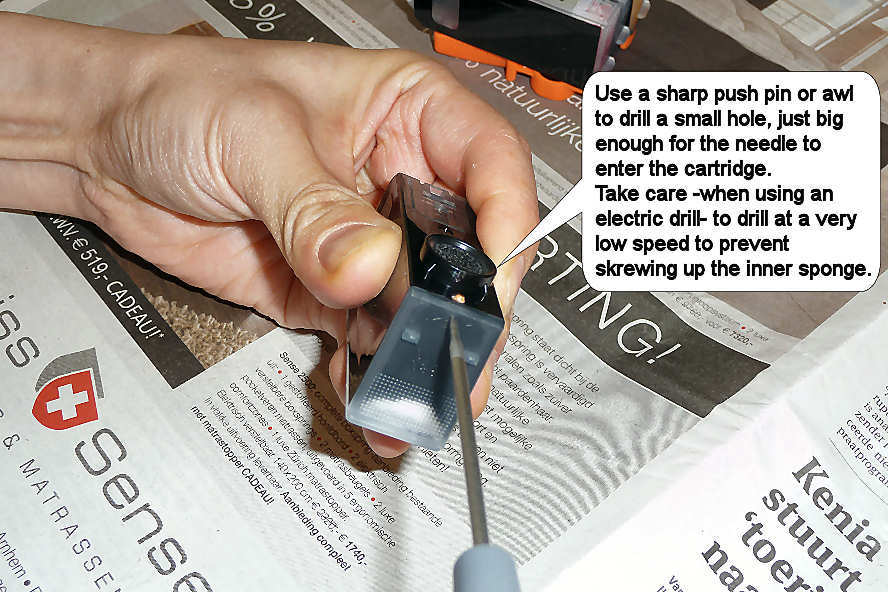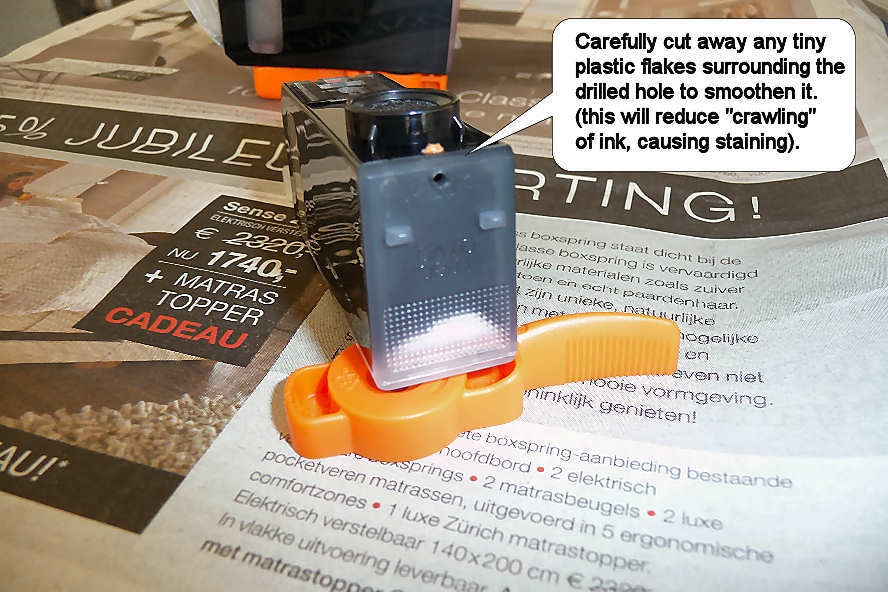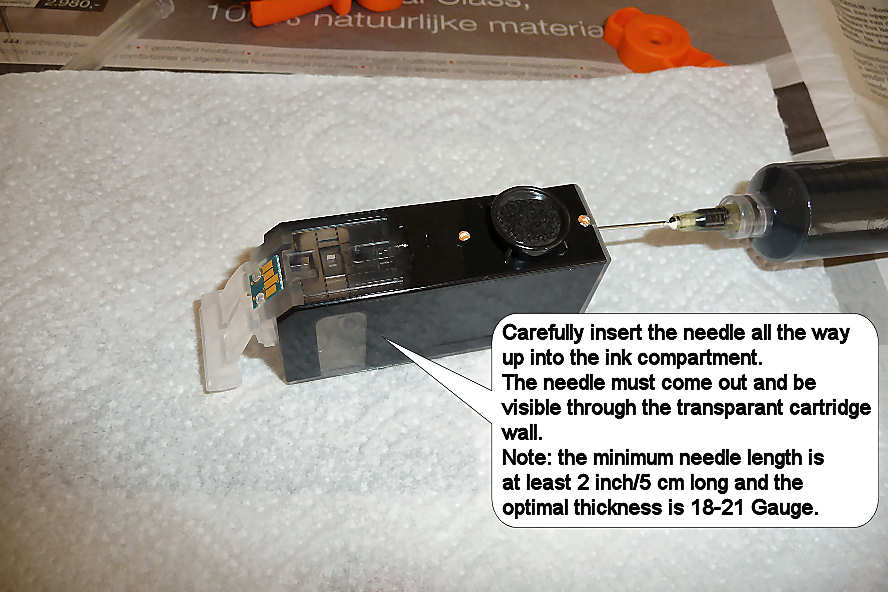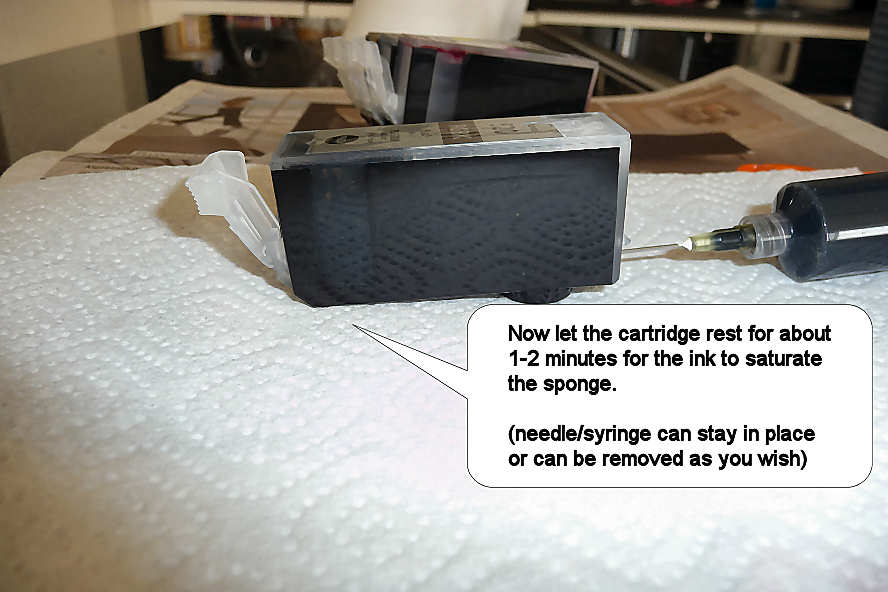 The refilling for the smaller CLI-221/521/821 cartridges are similar to the PGI-220/520/820 cartridge, but the dye ink will be easier to see if the ink compartment is full. Take care not to refill too fast or you may force the ink resident inside the sponge to migrate towards the breathing hole, causing ink to drip out from the top of the cartridge.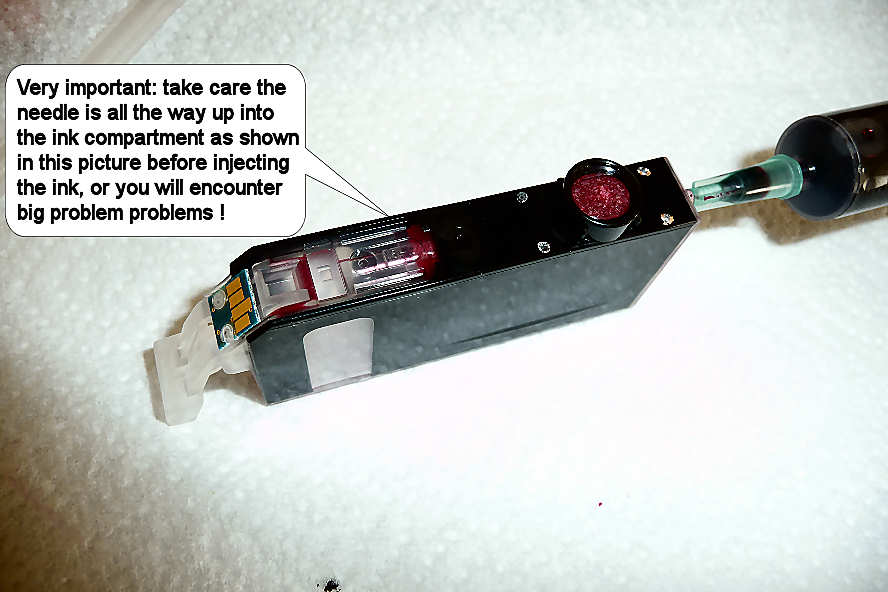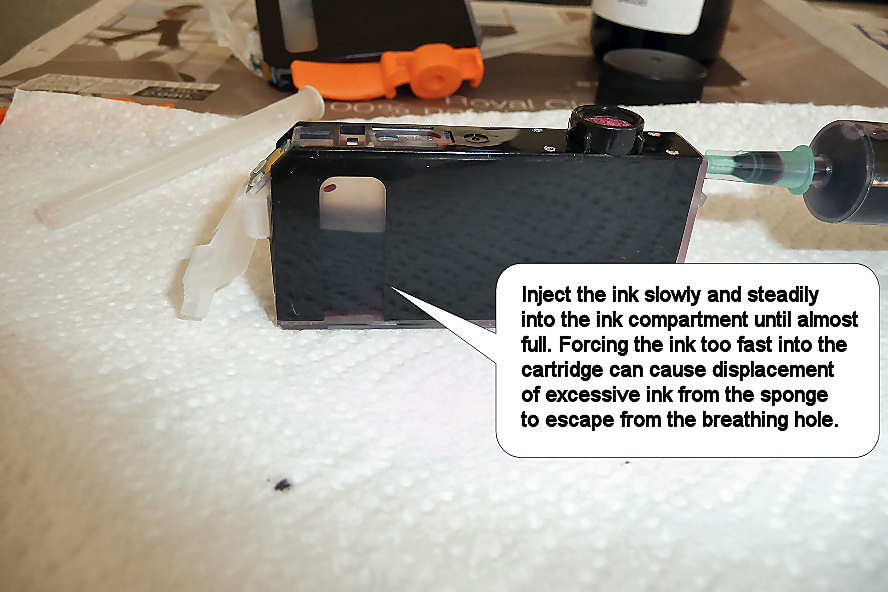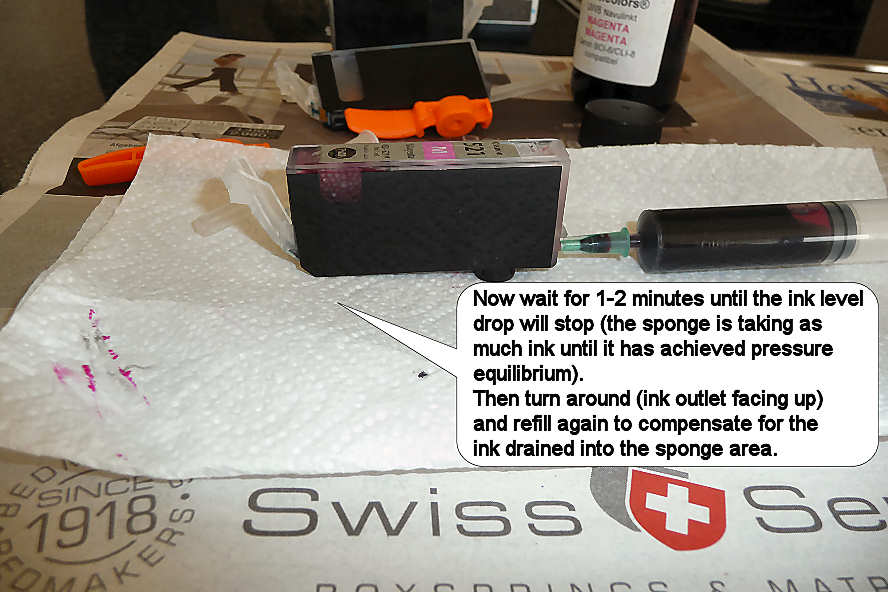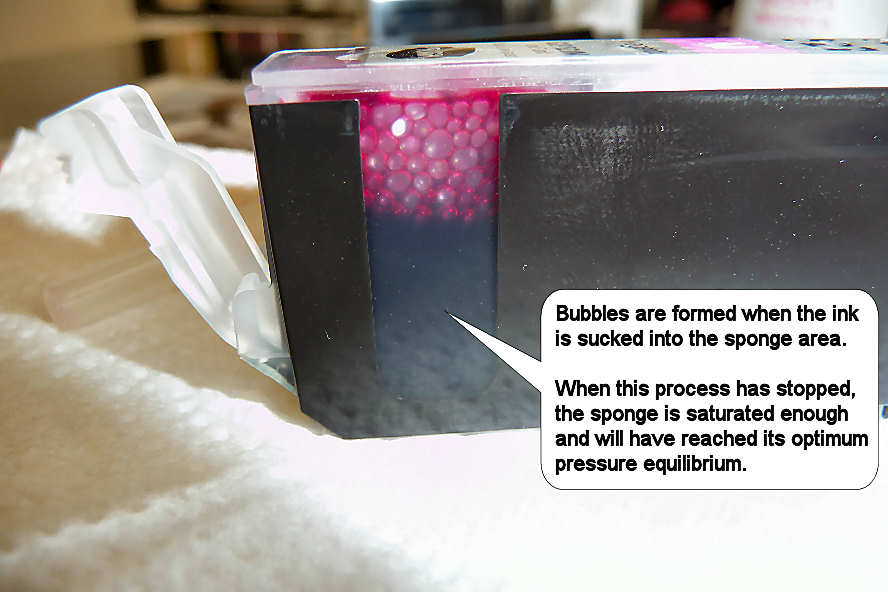 An alternative way to saturate the sponge after the first load of ink into the cartridge, is -after removing the syringe/needle- turning the cartridge and let it rest with the front facing down: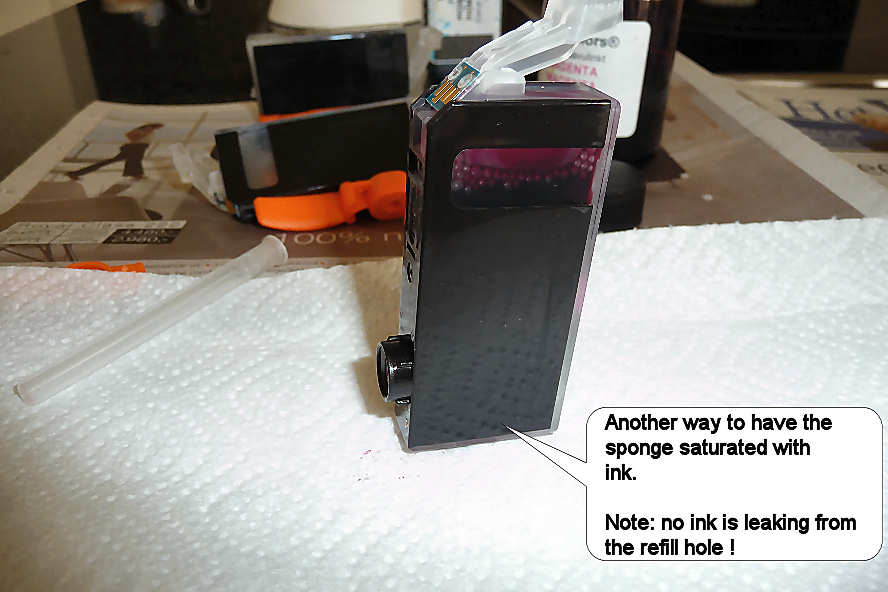 The picture below shows all cartridges refilled and resting with the ink outlet facing down and ink should not drip out from the cartridge as shown below: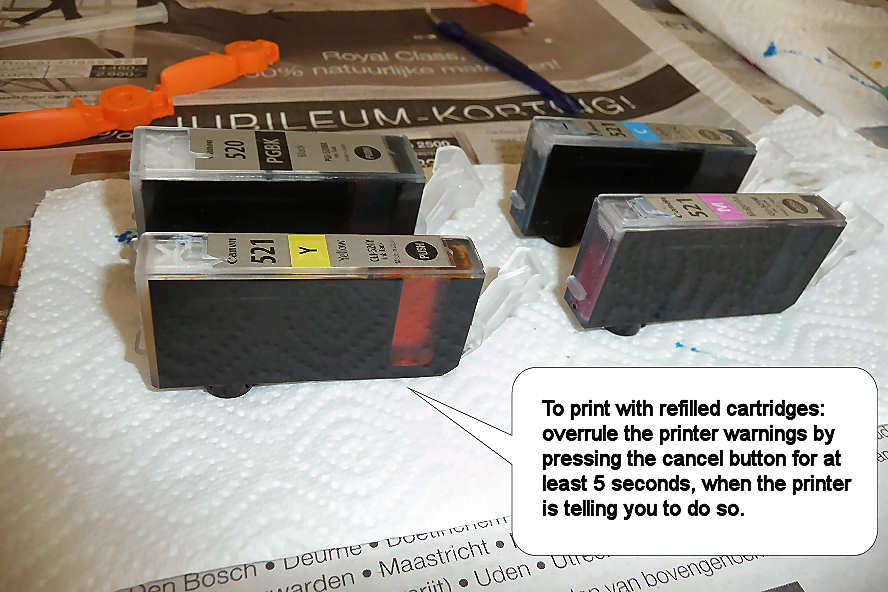 This refill method can be performed on any Canon single colour cartridge from the older BCI-3/BCI-6 and the chipped CLI-8/PGI-5 and the latest CLI-221/521/821 and the PGI-220/520/820 cartridges and also on the latest HP 364 XL cartridges which looks very similar to Canon's proven design.
Note: the low capacity standard HP 364 can NOT be refilled using this method, because there is NO physical hole connecting the sponge area and the ink compartment (so drilling a hole above the ink compartment and refilling it will not work, since the ink cannot enter the ink compartment). The only way is using the dripping method (dripping ink droplet by droplet into the ink exit hole and wait until the ink has been absorbed into the sponge), which is so cumbersome and slow that refilling them is a waste of time. So again: only the HP 364 XL cartridges can be refilled using this method !