Joined

Jan 18, 2010
Messages

12,176
Reaction score

5,832
Points

413
Location
Printer Model

Canon ? + 3D, CR-10.
I have the impression that fading in general is not addressed at all in any photo or printing forum by the vast majority of users/members - it is just a no-subject
Whether your prints fade or not is not the answer one should be concerned about, but rather how fade resistant is the paper that it's printed on..

Here is HP photo paper that I used from a roll and it's clearly not withstanding the environment that I hung it in, I placed it on the wall of my Computer room about 5 or six years ago and yes the dye ink is fading also (About 40% or more), the photo looks ok and needs replacing, but also is the paper.. It's delaminating…

You can have all the best archival inks in the world, (100 years plus) but if the modern Photo Media surface can't stay the distance, then what's the point in worrying about how good your inks are, only time will tell how long the average Media will last..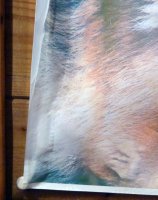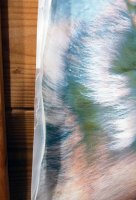 Click to enlarge..