Joined

Jan 8, 2018
Messages

32
Reaction score

27
Points

51
Printer Model

Epson XP&WF, HP DJ, Canon MG
I wanted to see what would happen if I refilled a Canon PGI-245 black ink cartridge with Epson 664 black ink (Ecotank ink). First I did a pre-test to look for obvious chemical incompatibilities between the Canon and Epson inks. I withdrew ink from a Canon cartridge and an Epson bottle and placed drops both individually and mixed on a piece of tile. I did not see any precipitation or other signs of incompatibility.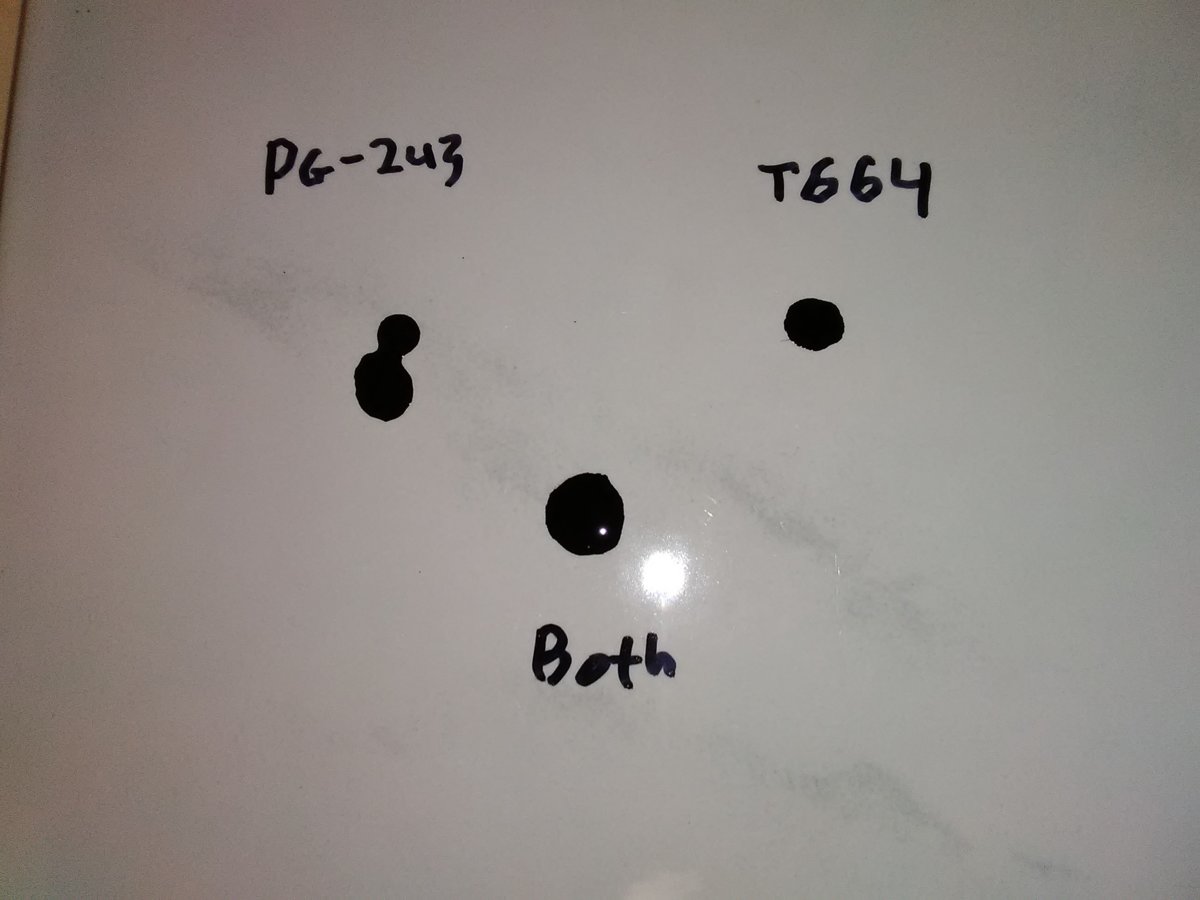 I found an old, used Canon PG-245 that had run out of ink. There is also a higher capacity version of this cartridge called the PG-245 XL, and a small starter version called PG-243. My used PG-245 cartridge had a mass of 30.3 grams before refilling: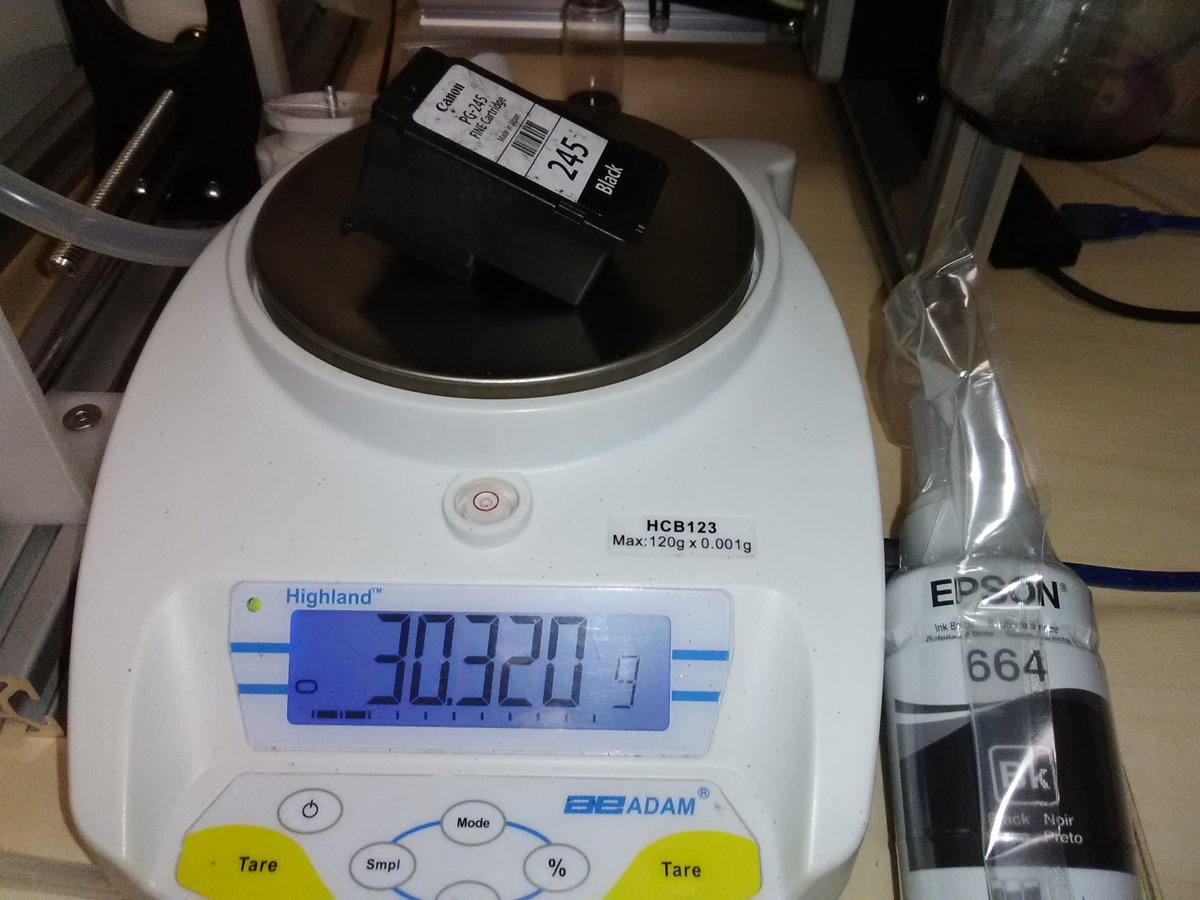 I used a utility knife to pop the lid off the cartridge so I could see the sponge and fill it more easily. The lids are very easy to remove on these cartridges: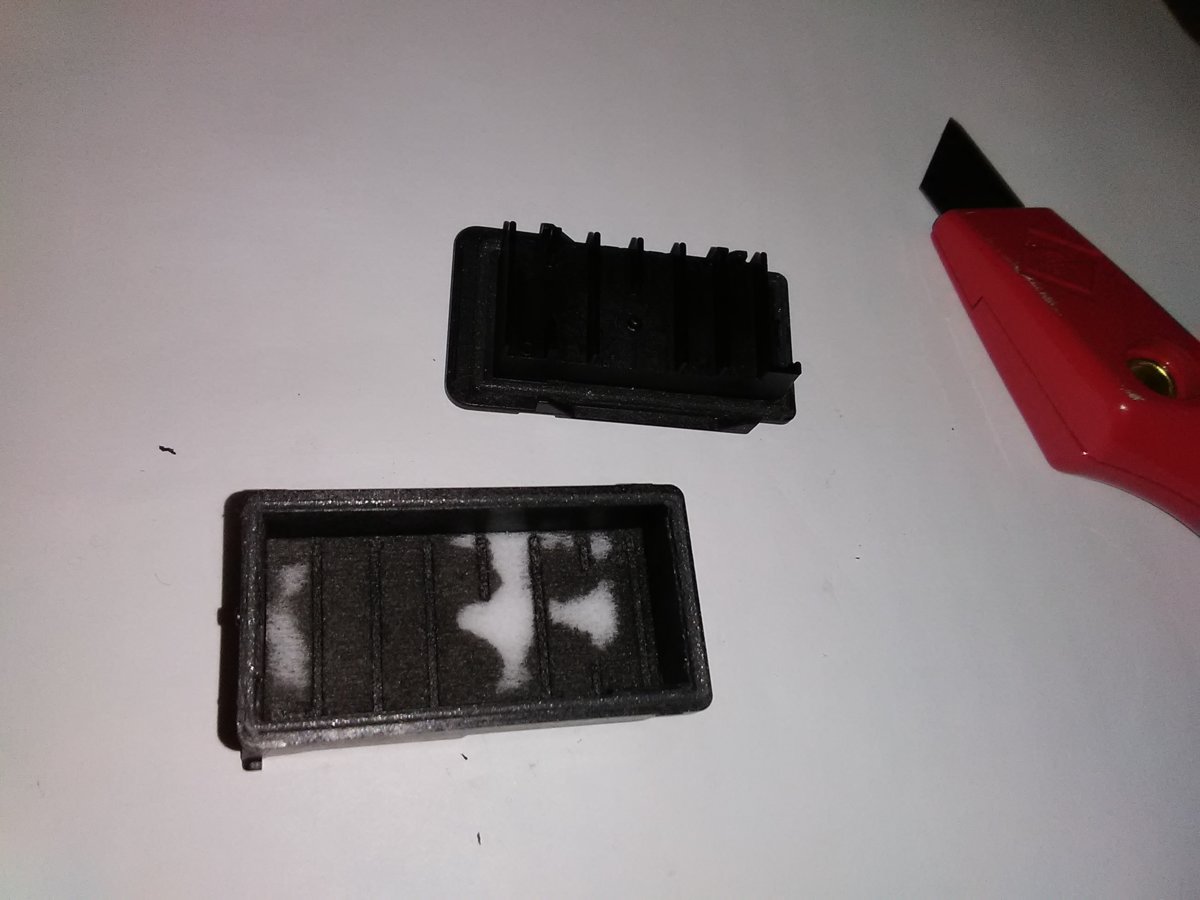 I used a disposable pipette to add Epson 664 ink to the top of the sponge until it appeared to be getting close to saturated. Then I primed the cartridge by pulling a vacuum on the nozzles: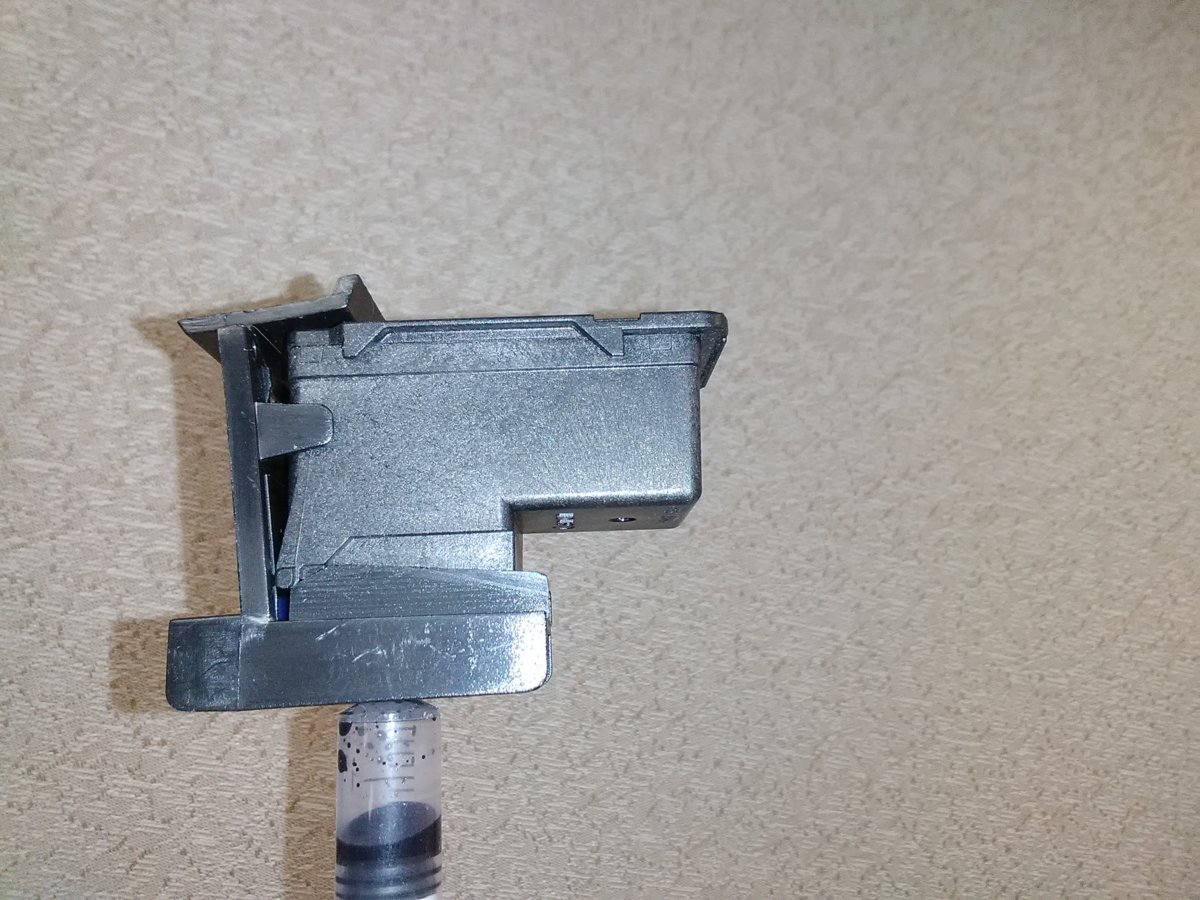 The mass of the refilled cartridge was 39.4 g: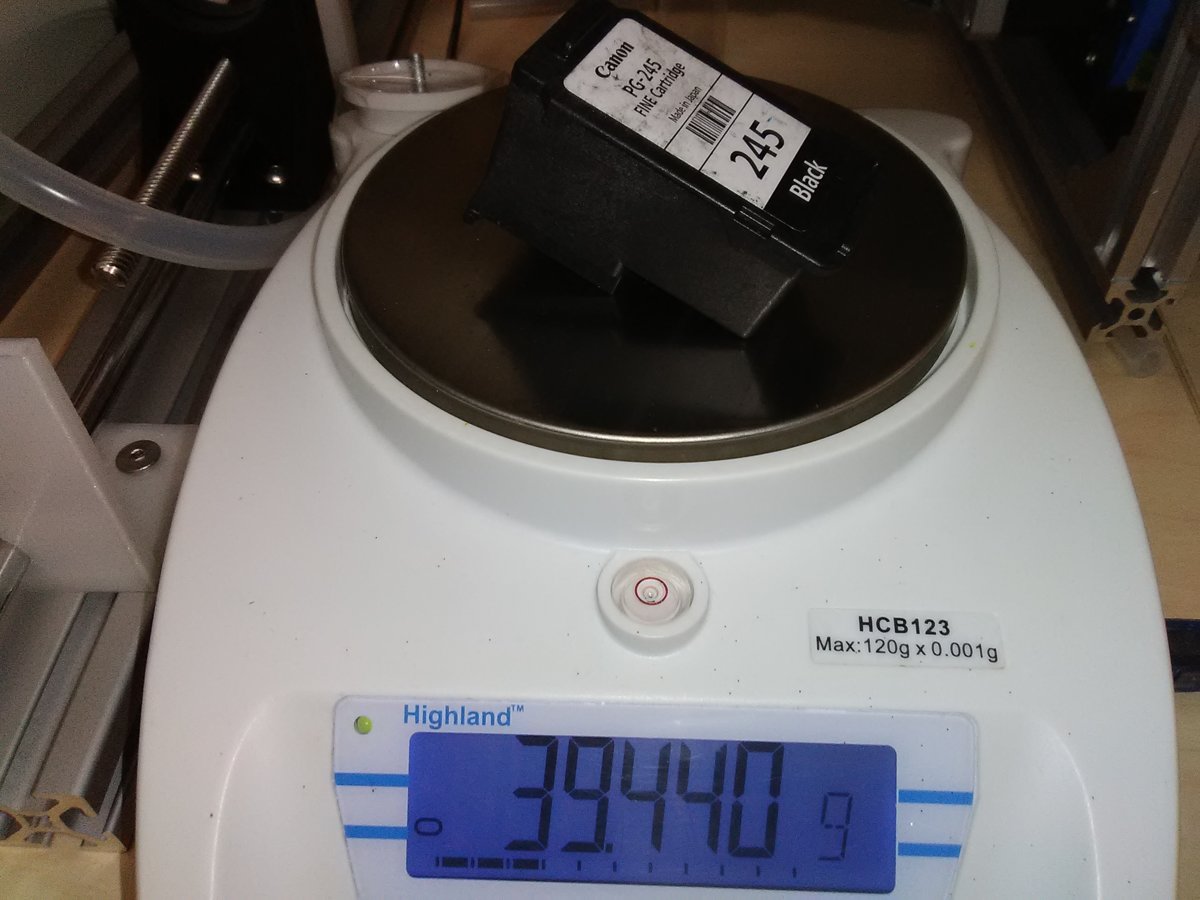 I then put the lid back on and loaded the cartridge into a Canon MG2525 printer and set the printer to print with the black cartridge only. A nozzle check and test pages were poor and not improved by regular and deep cleaning cycles, so I placed the cartridge with the nozzles facing down in a plastic cup, added water to the cup to cover the nozzles, and placed the cup in the water bath of a 35W 40kHZ ultrasonic cleaner for 5 minutes. My theory was that the cartridge had clogged nozzles from sitting uncapped and unused for an unknown amount of time. At the end of 5 minutes the water in the cup was black. I removed the cartridge and wiped off the print head and inserted it back in the printer. The nozzle check looked flawless and I began printing sets of ISO/IEC 24712 test pages. Per ISO, "The test page suite includes four "customer" type documents and one "diagnostic" page that is used to determine end of ink or toner consumable life." I printed 20 sets using black ink only, and there was not drop-off in quality that I noticed. Here is page 1 coming out of the printer: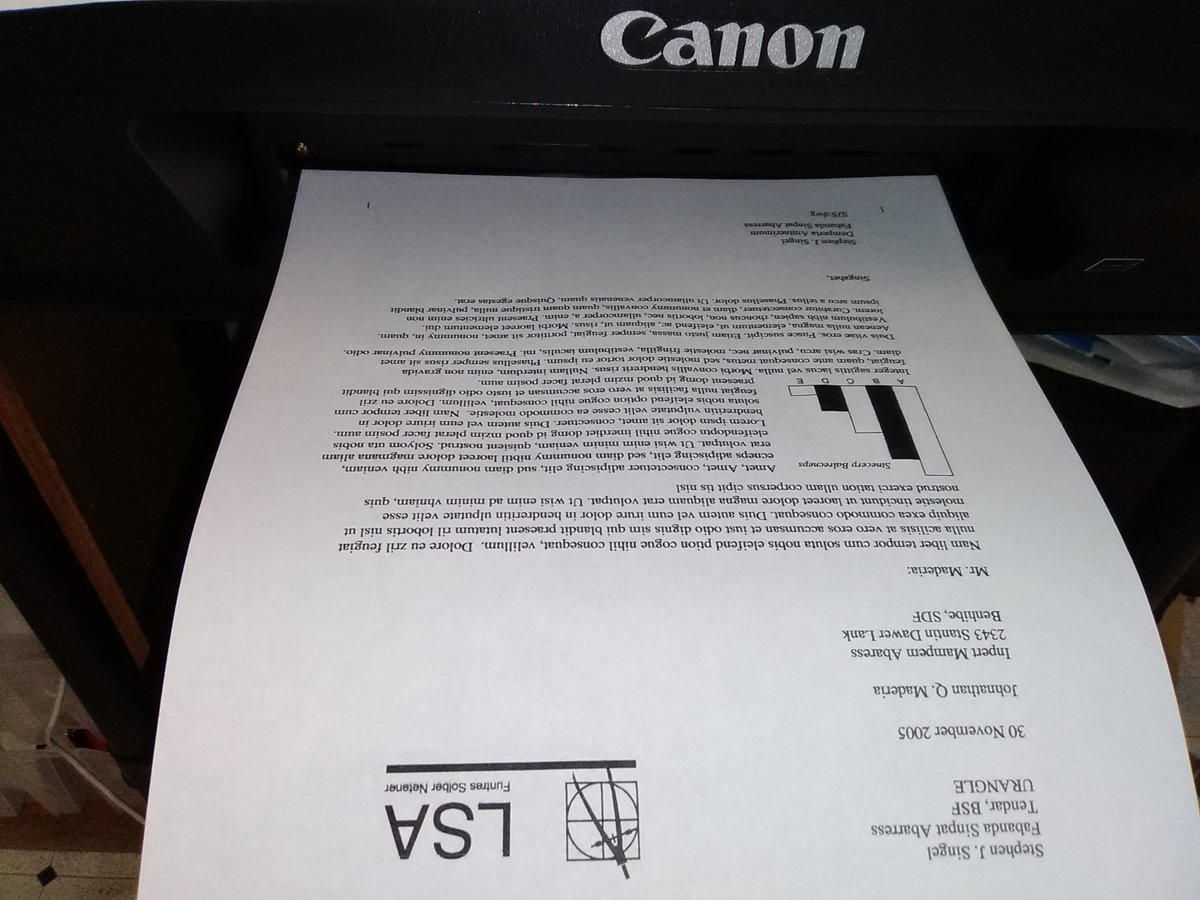 After the 100 ISO test pages I printed 150 pages of plain text. Near the end of the text pages the ink seemed to be running low and some of the lines of text were not sharp. I removed the cartridge and its mass had dropped from 39.4 to 31.4 g: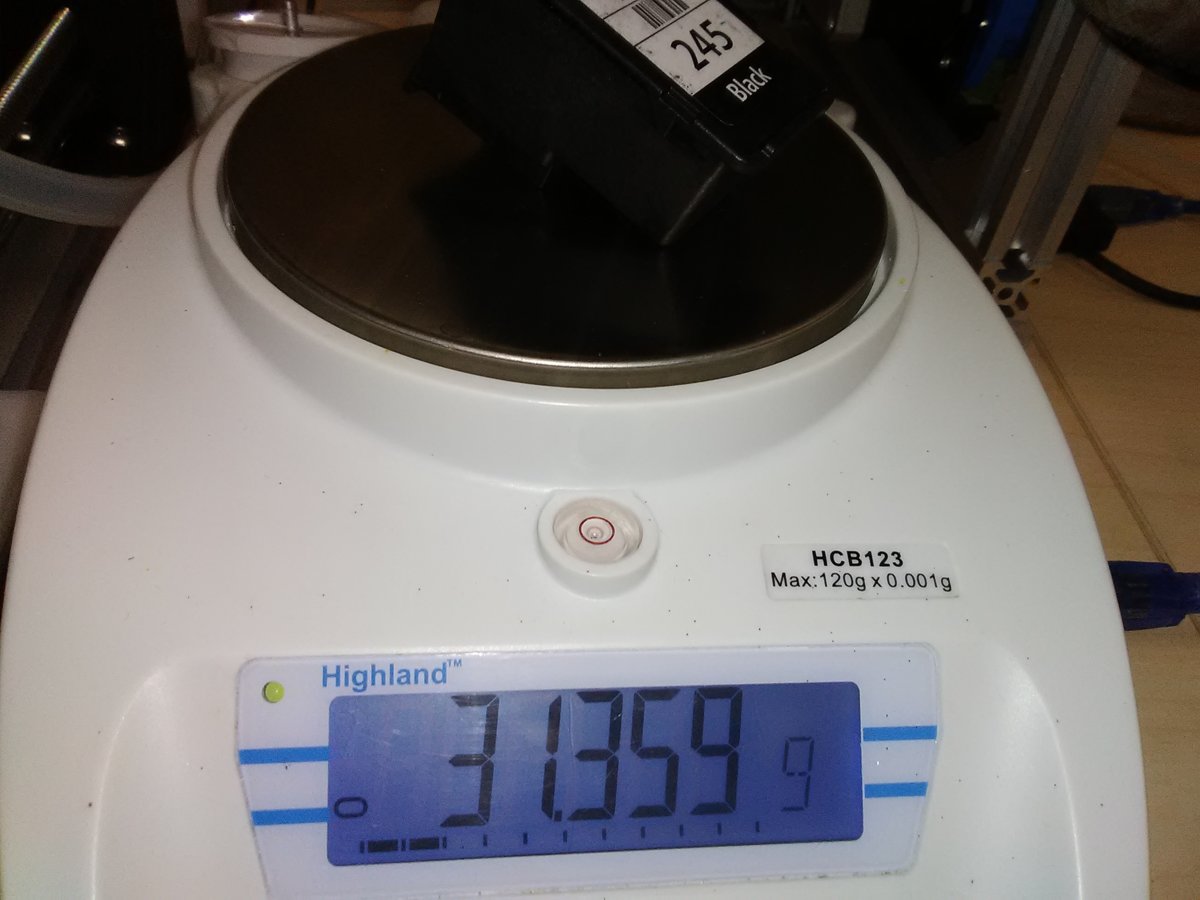 I refilled the cartridge with more Epson 664 ink to 40.8 grams and printed a nozzle check. One segment was missing so I ran a head clean cycle and then the nozzle check and test prints were fine: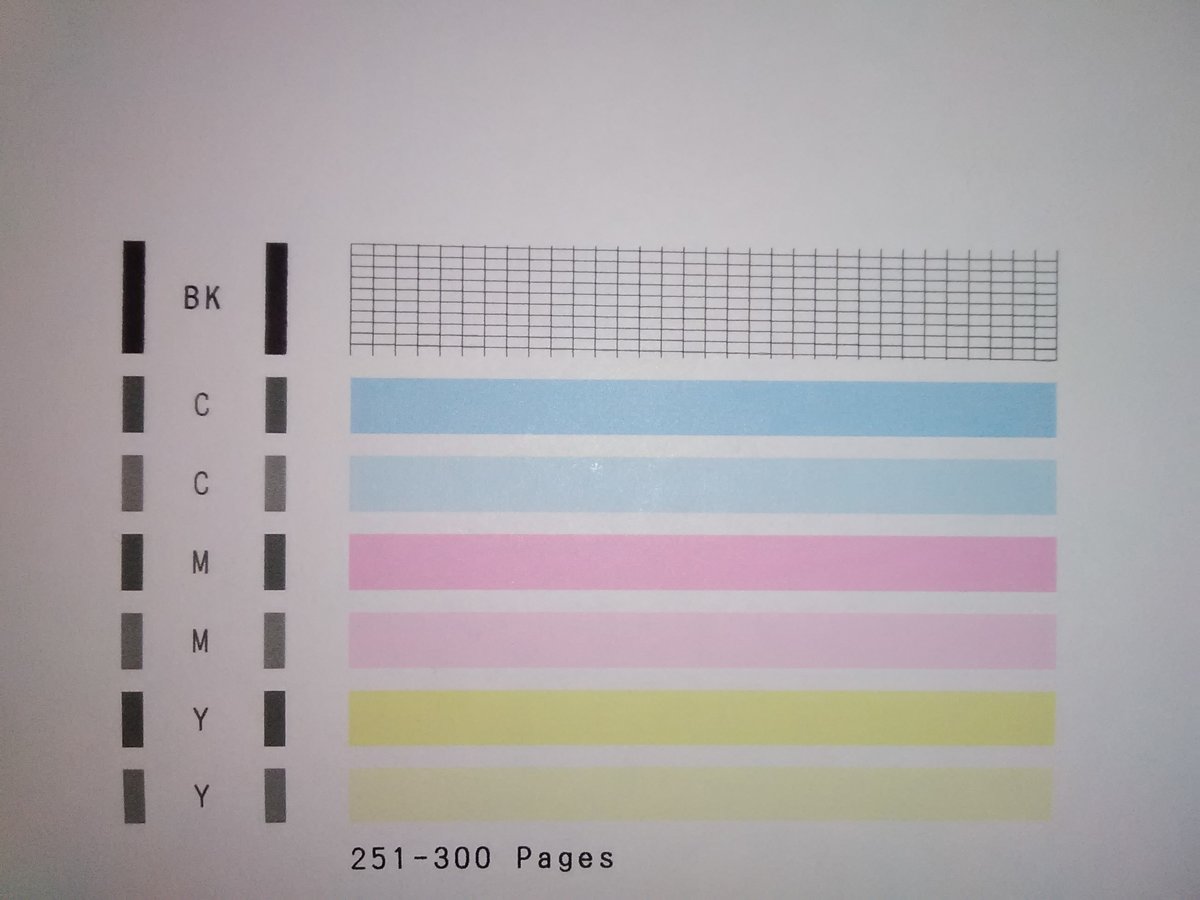 I found these results somewhat surprising. These Canon and Epson inks have a similar surface tension of about 29 dynes/cm which is good, but the Canon ink is less viscous with a viscosity of about 1.5 cp compared to the Epson 664 viscosity of about 2.5 cp. I would have expected that putting the more viscous ink into the Canon cartridge could have lead to ink starvation, but in this test it did not.
Of course these are only day 1 results and there could be issues with Epson 664 ink in Canon PG-245 cartridges that will arise over time. If anyone is interested in whether the cartridge will print after more time has elapsed, please post something in a week or so to remind me to test it again. I would also be great if someone else tried the same thing. It's not science if the results can't be replicated.