Printer VIP
Platinum Printer Member
Joined

Nov 27, 2010
Messages

4,862
Reaction score

4,657
Points

353
Location
Printer Model

Canon MP980
I opened a power supply from a Canon MP600. The reservoir capacitor is 150µF/400V, and no bleeder resistor is connected in parallel. Here the reservoir capacitor can be seen: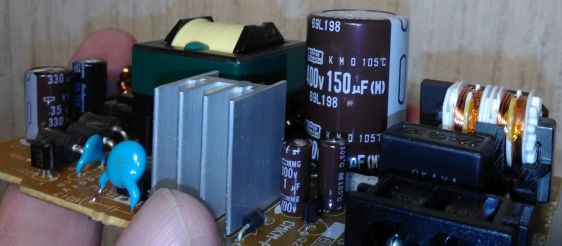 BTW the power supply has not been connected to the mains for several months, and I verified with a DMM that there was no voltage on then capacitor.
I found a YouTube video about a similar power supply
, It is in German but notice that at 5:28 the voltage over the reservoir capacitor is still 220 VDC, and the mains was disconnected from the power supply at the beginning of the video. I recommend to wait at least 10 minutes after disconnecting the mains before opening the box.
I noticed in the second video linked to by stratman
that the power supply looked very similar to the type K30321with an output of 24 VDC @ 1,0 A. At 0:16 you can see that the type number is K30377 and the output is 24 VDC @ 0.75 A.
I wonder if the two power supplies behave in the same way? So can they be tested in the same way? Here is a sketch of the K30321 with the output connector: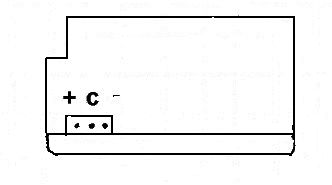 The pins marked + and - are the output, it is 8 VDC in standby mode and 24 VDC in operating mode. With no voltage applied to the control pin marked C the output is 8V. With +3 V on pin C with the - pin as ground the output is 24 V. Maybe this could be used to test the C2010 power supply? You can get the 3 V control signal from a lithium coin cell or a couple of AAAs in a battery box.
Last edited: