Printer VIP
Platinum Printer Member
Joined

Jan 18, 2010
Messages

15,273
Reaction score

8,431
Points

453
Location
Printer Model

Canon/3D, CR-10, CR-10S, KP-3

Every year I print a Christmas Countdown Calendar, it starts 11 weeks before and is a great ready reckoner to show how many shopping days to go till ?.. (22 years now)

But its tiresome to change everything around for each year, and besides that my love for any sort of printing has diminished and I just don't like waking up a printer for so little print work.

But now my love is 3D printing and I taught it was time to see if first, I could make up a calendar in 3D and to see if that would work and be reusable too.

The existing paper calendar is 45 x 32 cm so I'll have to make the 3D one a bit smaller to fit my hot bed, I was thinking of printing it in two halves but that was ruled out for practical reasons, (To much like work)

I'll make it the same size in SCAD and reduce it down later to print and it won't be as colourful as the paper one but I'll try add as much colour as I can, plus I reckon to change it for each year will be easy, it will only be a matter of altering the days of the week for each year.

Right now its half in OPENSCAD and half in my head, but with the whole summer ahead I should be able to come up with something useful, and I'll update the thread when I finally have something to show..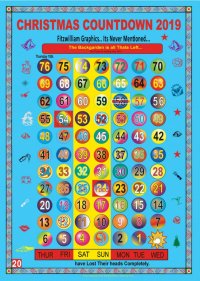 click to enlarge