Just finished another Benchy (yes,
@The Hat
, I know that you hate these tests
)
Second try with Poylmaker's PC Max. The first one failed because of an extruder jam.
Now I've replaced the heater block and heatbreak with more efficient parts ( from China, go figure

) and the print was finished successfully without heat creep or clogs. .. BUT the profile in Prusa slicer for that filament disables totally by default the print fan, regardless of layer size.
See the picture below. Black Benchy from PC and the green from PLA.
The chimney of the black one looks like the tip of a drill. I saw that during the chimney printing the filament didn't have time enough to harden between layers and the tip of the nozzle was literally covered with a blob of semisolid filament.
If the profile had enabled the print fan, albeit at low speed, for layers which take less than 15-30 seconds to complete I bet that wouldn't have happened.
It's interesting that the profile for Prusa's own polycarbonate enables the print fan at 20% for layers that last less than 30 seconds to complete, but the fan is totally disabled in the profile for Polymaker PC-Max.
A tactic to convince the users to purchase Prusa's stuff and nothing else ?
Anyway, if it serves of guide,
@The Hat
, check the settings of the fan in your slicer program, whatever it is, and don't print fast, this isn't PLA.
BTW That PC Benchy is sturdy and hard but the finish is quite rough specially on narrow vertical parts. I'd say that this stuff is no good for detailed tiny models requiring 'good looks'. Compare with the Benchy in green PLA.
Maybe you'll have better luck with the one you got (Chinese, I gather ? )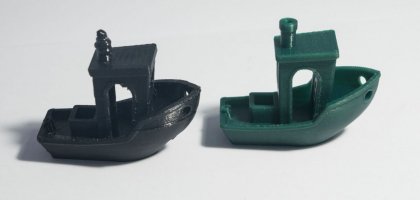 Last edited: