Printer VIP
Administrator
Joined

Nov 3, 2004
Messages

2,837
Reaction score

1,175
Points

317
Location
Printer Model

CR-10, i560 ,MFC-7440N
I did some printing and noticed a few lines in my print. No big deal, I'll just go through my standard regiment of nozzle cleaning, changing carts, etc. etc. etc.
Well, after everything I tried, even a new Canon cartridge, I'm still having an odd problem. For example, I print the following test page: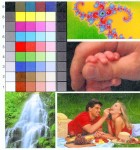 No matter how many times I print it, or when I do cleaning cycles I get the same lines at the bottom of the page like this:
http://www.nifty-stuff.com/img/files/lines.JPG
The lines are almost always the same spacing and size. I can print this image and it comes out fine every time:
http://www.nifty-stuff.com/gallery/sample-images/PDI_Target
I wrote it off as an anomaly with the photo or that my PC needed a reboot.
Well, just a few minutes ago I printed a bunch of pictures and out of the 10 pictures two keep giving me lines. It always seems to be an issue with yellow and always on the same images.
Any suggestions?