Yes, this morning my Pro-10s greeted me with the dreaded B200 error.
Looking bad. I removed the mains cable for 15 minutes, plugged and tried again : no luck.
Following the Hat's advice, I unplugged the cable again, opened the top panel, as if trying to change cartridges and switched on again to see if the carriage moved to the centre, but no luck.
Only fix was to disassemble the top casing of the printer to gain access to the printhead.
Not my cup of tea, but if there's no other way.. you'll do it.
It's quite fiddly to dislodge those nasty plastic tabs, I managed to break two or three of them but, step by step and thanks to the excellent tutorial posted by user FWP, I was able to remove the side and corner panels and at last the top cover.
https://www.printerknowledge.com/threads/canon-pro-100-cabinet-removal-procedure.14918/#post-129909
Beware if your printer has an internal battery. This isn't documented in that post about the Pro100. You have to be very careful removing first the battery cradle from the top panel and leave it hanging from the wires before lifting the cover. If you don't do it, when you remove that cover, the battery wires will break or disconnect from the internal socket.
With the top panel removed, the carriage assembly is accessible, no need to disengage it from the parking position, Just remove the carts and the old printhead, install the new one, replace the carts and reinstall the main panel, put the battery cradle and Hifi module back in place, and reassembly the other panels, which is way easier than removing them, specially if you broke several plastic tabs, like I did.
Now, switch on the printer and wait for a long, long time with the white power led blinking slowly while the machine initializes the new printhead, primes the carts., etc.
If you're lucky, the white led will lit steadily at last and the blue led too. Printing nozzle test (fingers crossed) and all was well. Hooray !.

Frankly, if I hadn't had a spare printhead already available, I wouldn't have bothered to purchase a new one. For one thing, service mode is locked in my Pro10s ( I messed with the wrong version of the software tools years ago ). So, when I left the battery cradle hanging by the wires I was thinking that if that battery fell from the socket, my Pro10s would become instantly a huge brick. No service mode = no way to reset the error triggered by a disconnected battery.
Sorry, I didn't take photos of the whole procedure, just a couple of fuzzy snaps.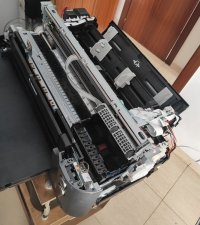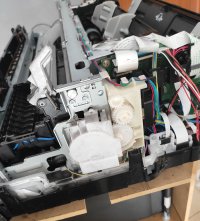 (click to enlarge ).
BTW : the old printhead had been working without problem for years, No previous warnings before error B200 was suddenly triggered.
Last edited: