You may probably know or more probably do not know that there is no WHITE ink available for Canon print head platform. You only have it for Epson piezo print head platform.
If you try to put that same white ink in Canon print head you are going to fuse it in the second. And you can throw that print head or printer away.
Why?
Simply, because piezo print head are designed for cold printing process. While Canon print heads are based on hot printing process and the heat is starting polymerization in polymer that is used to hold white pigment on one place after printing.
So the game is over. No white ink on the world for Canon inkjet printer.
Really?. There is no some way around?
Yes there is. Are you interested?
How?
Simple but first we would like to say few words about white ink for Epson.
If you take a look at offer of Epson printers with white ink you will definitively find out that all these White Epson printers are based on DX 5 or similar 8 channel print heads. Four channels are used for CYM Bk and other four channels for WWWW ink. Also you need appropriate RIP software that will put all this in one piece on the paper or on the dark fabrics. If you made your own home work on this subject, that is all an old story for you. Right?
So we made a test. We took and Epson with 90 nozzles for channel. Just to let you knew DX 4 has 180 nozzles on channel. This means we will be twice as slow. But that does not matter for this test. Then we printed with pigment Black Pigment Yellow Pigment Cyan and Pigment Magenta on white paper. The result is obviously perfect. But when you print the same pattern on dark paper, you do not see any thing. The same is with a white ink on DX 5 print had with one white channel.
Now we want to emulate that DX 5 180 nozzles print head and suitable RIP software on 90 nozzle print head. We want to find out what is a ratio of standard one pass pigment ink on white paper to the white ink on dark paper for the same visual and pleasant result.
How we made that? We took the same paper and put the same printout in the printer and print second time over previous print.
What happened?
Nothing. The result is still invisible
What we have done the next?
We printed the same way as DX4 printers with 4 channels White. We printed 4 times over the same image. Now the result is visible but looks like some ghost image.
So what we have done next?
We continue to print over the same print as long we do not have the same acceptable white covering on the black. Like print out done with DX 4 pinhead and 4 channels + RIP.
And after 16 print out the result is the same.
What that means?
That is the answer why you need to use print head with 8 channels. If you are trying to make and DTG printer with 4 channels print head, just forget it.
Than you need a RIP that would be let you print 2 - 4 more times over the same image in double pass. That is not supposed by standard driver. And with RIP you get extra covering power if you are able to use large inkjet droplet size in the best resolution. What is also not supported in the standard driver? So when you put that all together in DX4 print head you get the same effect we got in 16 pass print.
What does that mean all together? That is not new for myself. How does all this have any sense in connection with a white ink and Canon print head?
That means that for the same visual effect you are using 8- 16 more white ink that any other ink. That means that the same quantity of ink should pass through nozzles. That means, that for the same number the white heaters are more used that any other channel heaters. So if you do have an integrated thermal print heads as the most Canon printers do have these print heads live span would be 8 – 16 times shorter. !!!!!!
That is a probably a reason why we do not have white ink for Canon pri nters.
Also if you are using the white ink , the white ink cost would cost you beside print head cost 8- 16 time more than any other ink.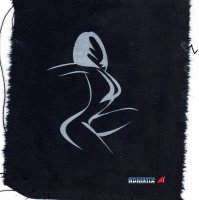 Right?
So should we write the next part of our development on white ink on Canon print head platform?