Joined

Jan 10, 2022
Messages

8
Reaction score

2
Points

10
Printer Model

Canon Pro-100s
This is going to be a long one buckle up.
I'm going to start at the beginning I hope people don't mind a little story time.... As hobby I take pictures with my film cameras, workflow evolved over the years, I do have an enlarger but only used it 2 times. Mostly I scan my film and send it to print online to a service. I came to the conclusion just to buy a printer after seeing tons of videos from Jose which you probably all know.
So I went to this second hand website and somehow scored a Canon Pro-100s for 150 Euros which printed only 10-50 Pages, it was owned by a doctor. The printer was standing on my desk for a month since I go to uni and INK is expensive. In the meantime I flushed the empty cards with water that came with the printer, all good so far.
Now I have to get refill ink and maybe later down the line I will buy some OEM so I have a second set to refill. Suddenly I see a deal online for a brand new CLI-42 OEM full set for 50 euros, so I bought it. I ordered some 3 packs of Ilford studio Satin 250gsm put in my OEM cards in and started printing like a maniac, first page I printed was a nozzle check.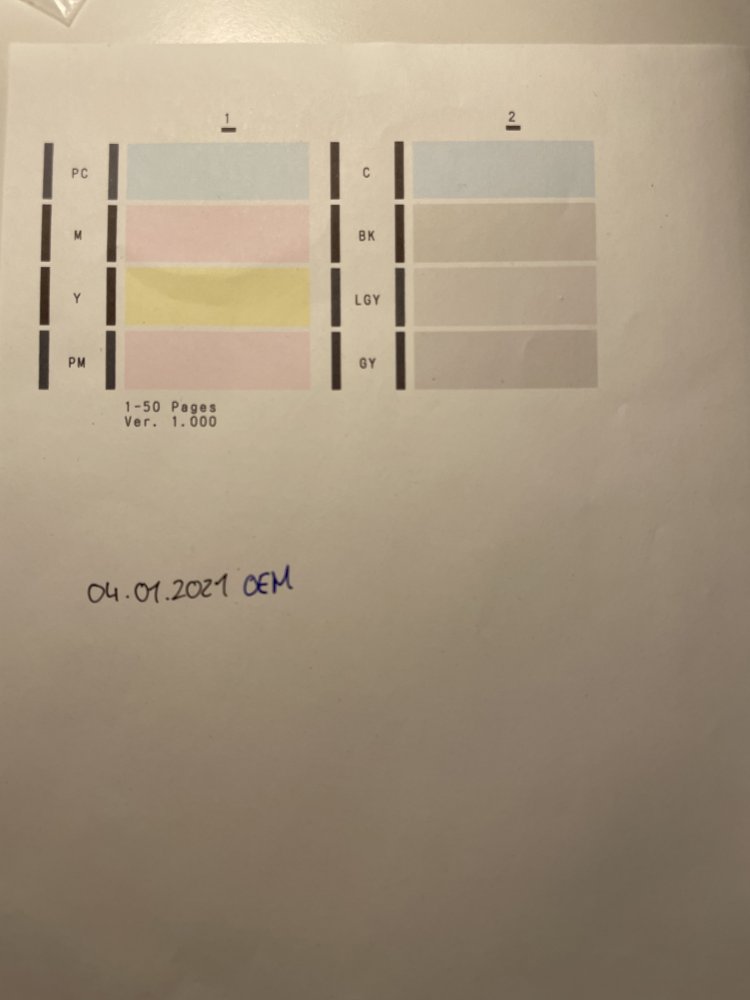 So far so good, popped in my paper, made sure I don't double profile, selected my paper type and wooshhhh 150 4x6 prints later I was so happy and the colors are amazing with the profiles, its nearly 1:1 can't ask for more. I've been printing nonstop since then, the Ilford paper is just amazing and much better in my opinion then the Canon photo paper plus semi-gloss Satin. I was able to grab one canon pack for 80 cents in a charity shop. Meanwhile my refill ink and resetter arrives, I bought cheap ink from SUDHAUS more about that later. Meanwhile I refilled my empty set with my new acquired refill ink and let them sit over night. 300 prints 4x6 down I get an low ink warning, alright Jose preaches to replace the whole set, what can go wrong one last time I do a nozzle check with my OEM ink. Pull out all cartridges pop in my refilled ones and do a nozzle check again.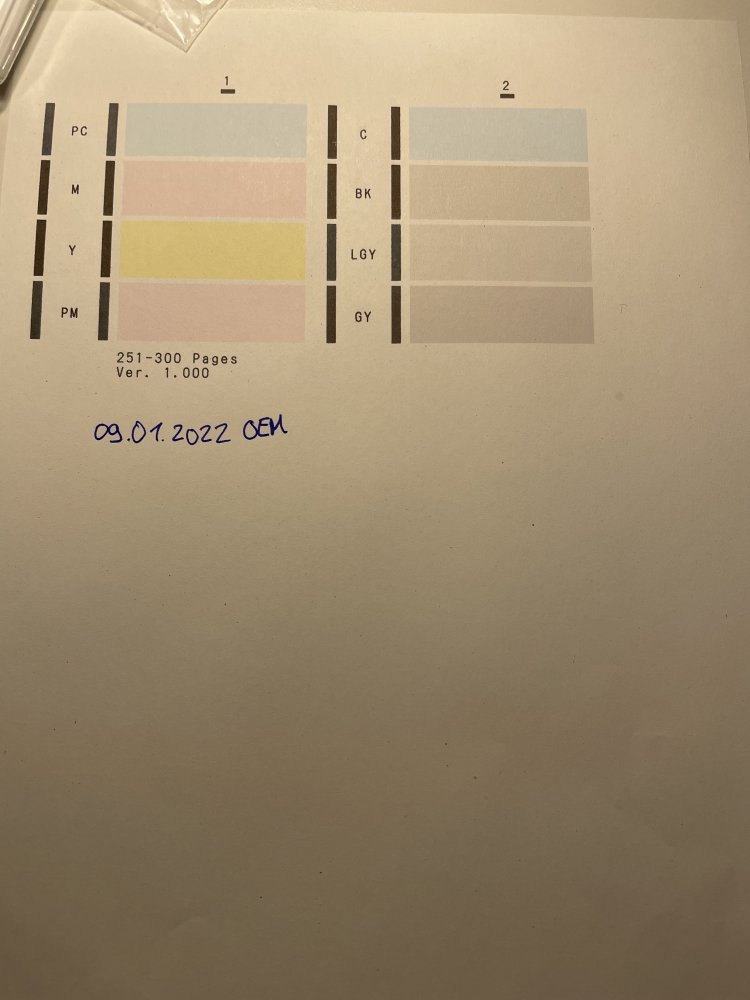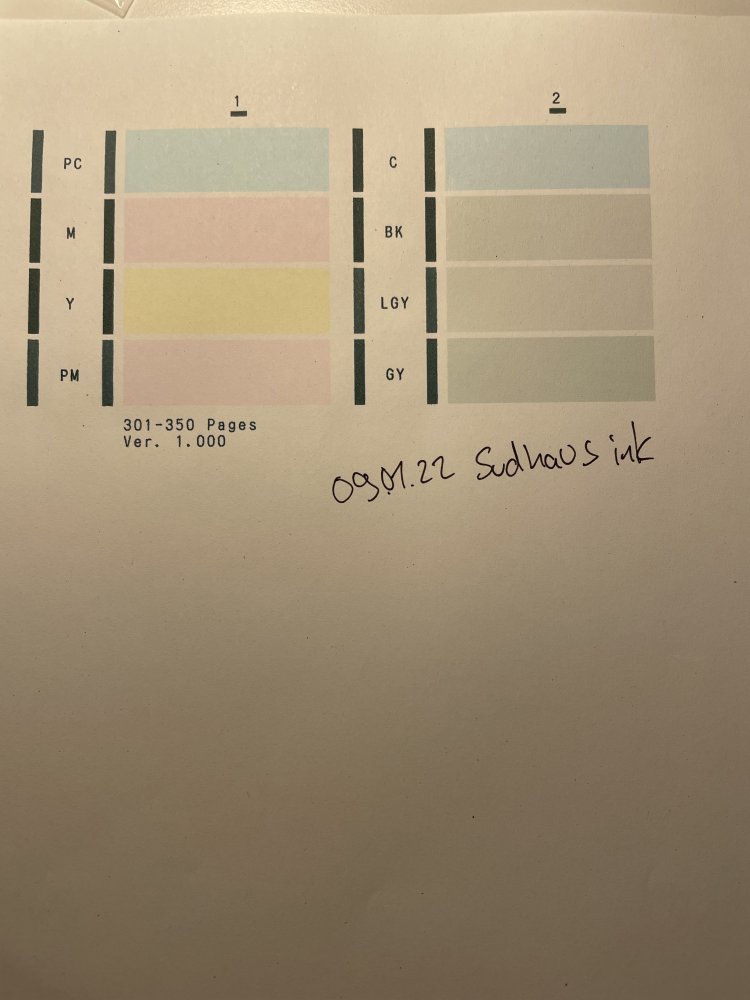 And here is the Problem, I get a green cast on my nozzle check on the black stripes, and the GY is totally off. So here is the
first question
normally the nozzle check is controlled by the printer driver? and it came out fine before but with the cheap ink I bought because im not the brightest and I could've easily avoided it now I get a green cast probably due to poor ink quality. Before starting to correct colors I thought I compare the OEM test print to my new SUDHAUS refill.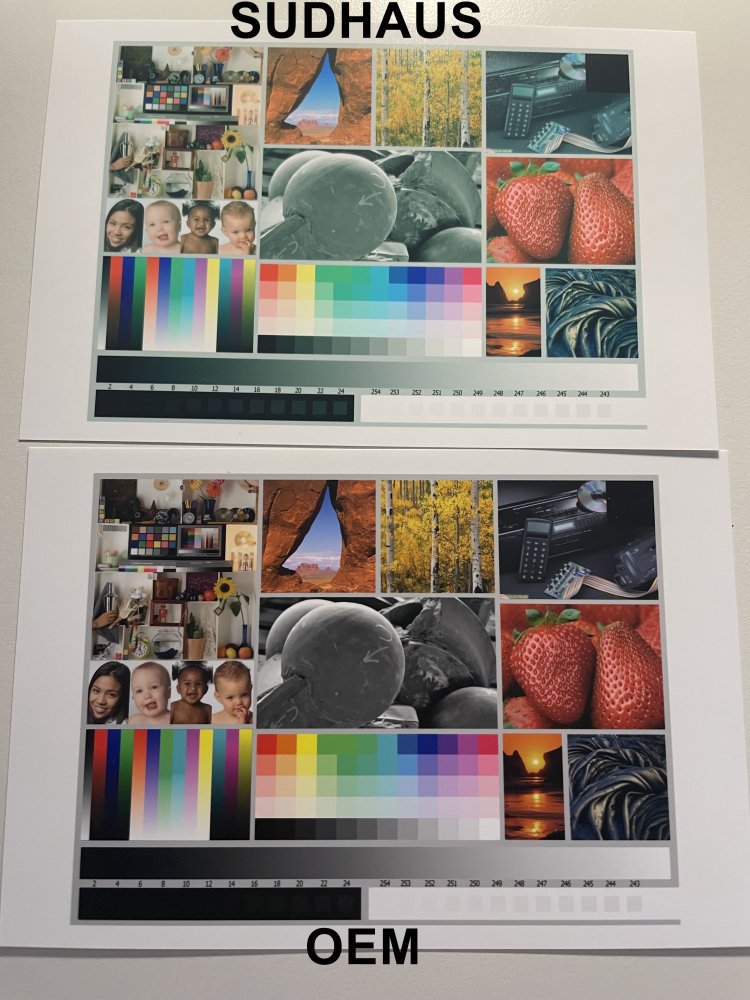 As you can notably see YOU GOT ME F UP or more likely I did this to myself. I printed one image that I printed before with OEM to see what's going on with the green cast to compare it and YES a nightmare.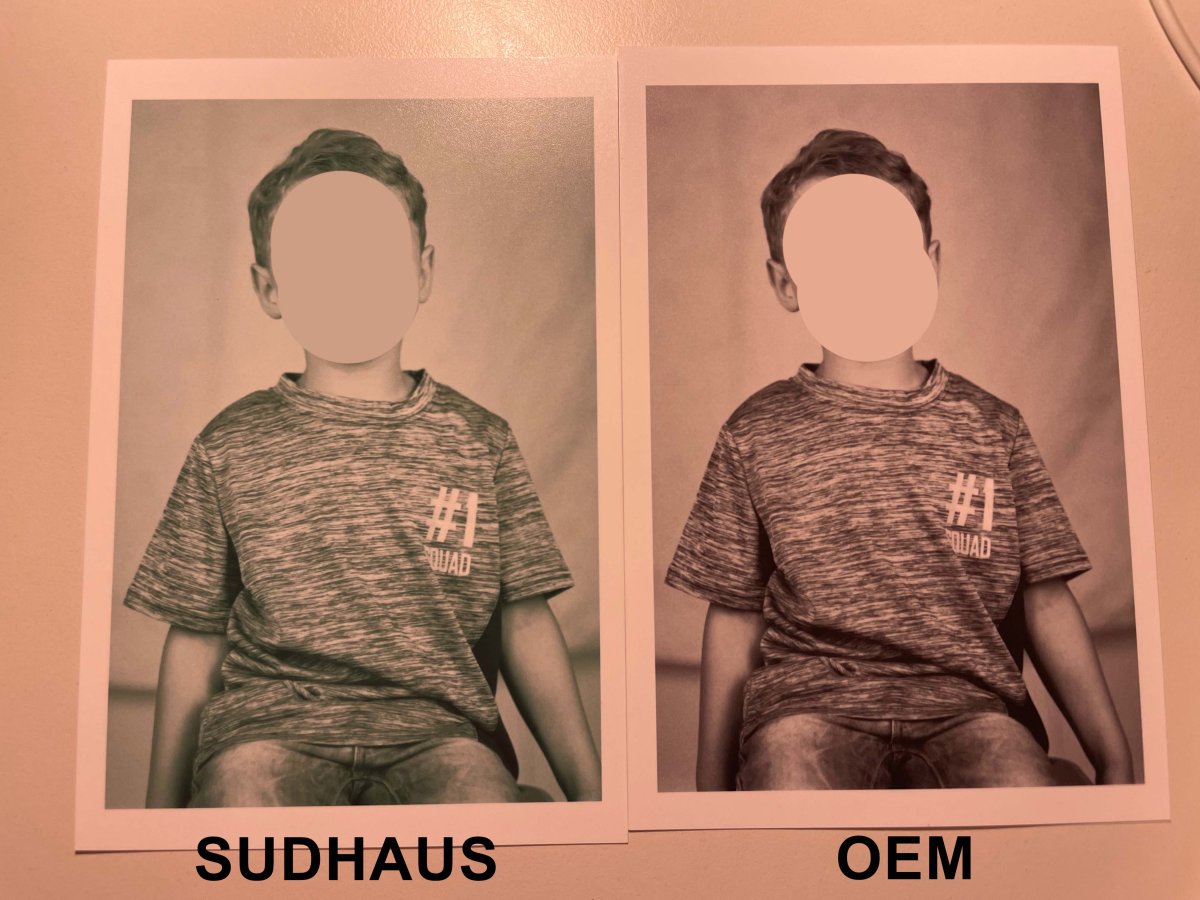 Even with the bad image here you can see what's going on, the image has this deep green cast. I looked on the forums and found these posts
1
/
2
/
3
. Since I can't print a pattern adjustment because canon decided the program professional print and layout program not to support on the newest Mac osx great canon. I remembered about 10 years ago I put some old inkjet paper a4 in this box and it was still in there so I was able to test the image from PeterBJ.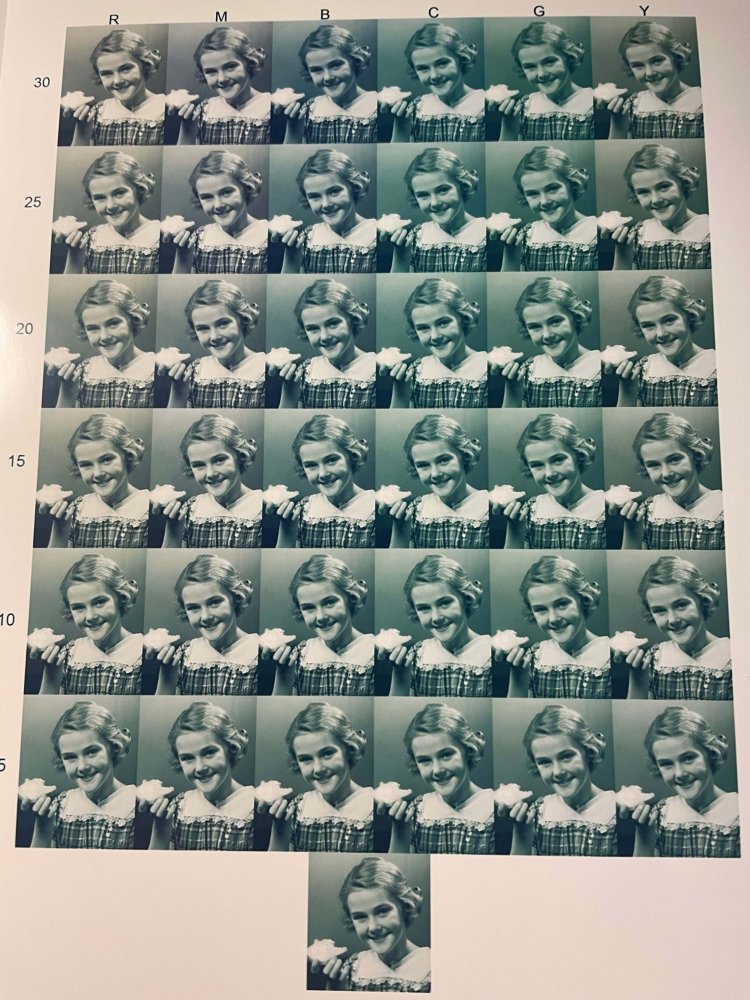 I then Adjusted to +30 Magenta which looked to me the best. I then decided to print the image again in 4x6 with the +30 Magenta.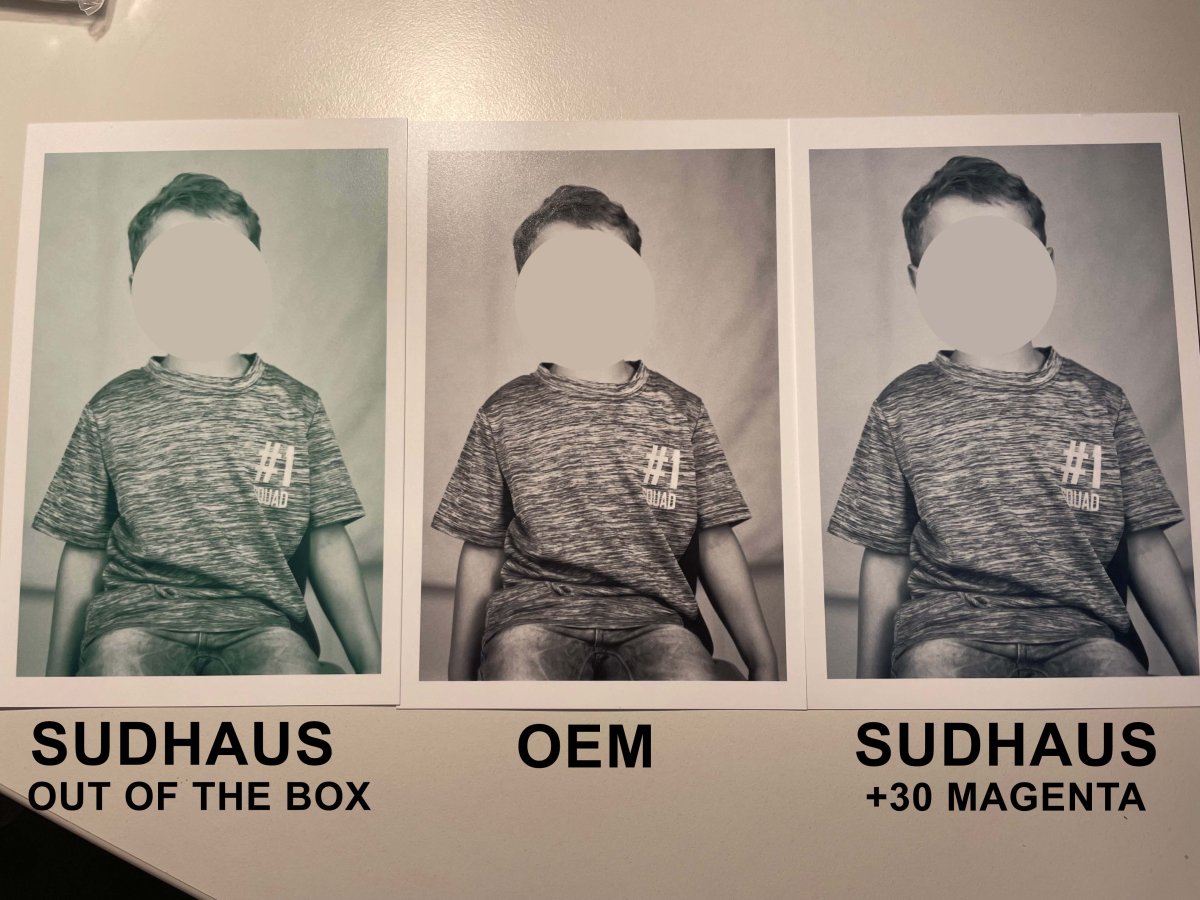 As you can see there is still a color cast and I'm not able to remove it.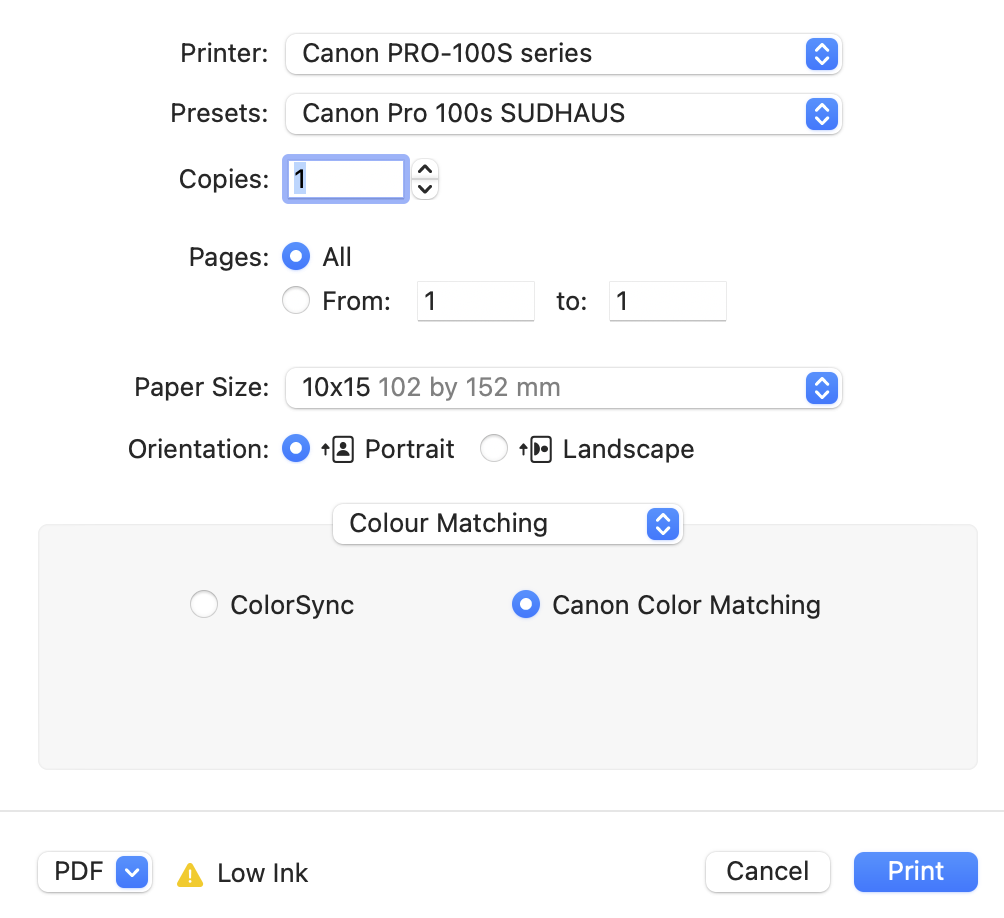 If I don't select Canon color matching I'm not able to change the values on the next step.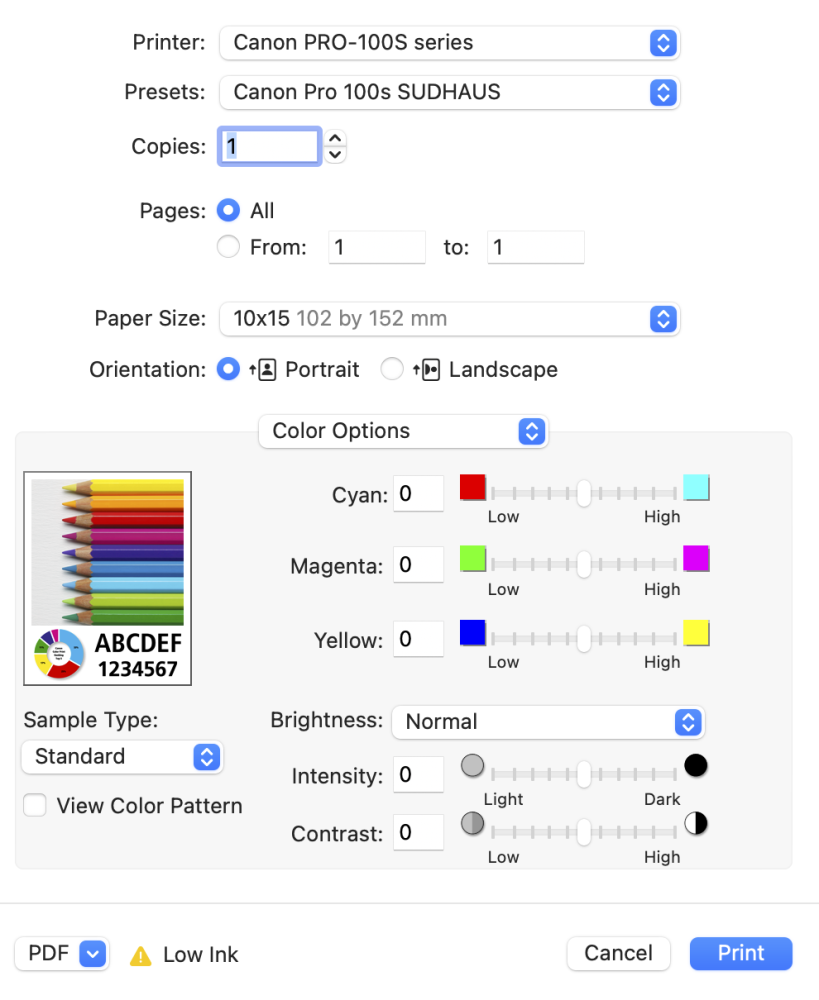 I printed 11x 4x6 images with different values and nothing came close because of the BK I guess and the GY. Maybe I have to adjust a different values but I tried so many combinations, im pretty much at the end with my knowledge. While I was browsing online I found someone selling good ink from Octopus office and he sold me these exact 3 colors Magenta LGY and GY which is a coincidence since I bought them before I even had this green cast problem. This could entirely solve my problem but we will see they will arrive soon I guess.
I have another Problem with my redsetter, I'm not able to reset my LGY cartridge I thought the chip broke but they both not properly resetting they show no ink displayed but I still can print I guess this is not a big deal?
Yeah folks I guess lesson learned don't buy cheapo ink. If anybody still has a solution for the color cast or magic formula that would be helpful. I hope you enjoyed my misery!!!!