Joined

Mar 7, 2022
Messages

34
Reaction score

13
Points

28
Printer Model

Canon Pixma E510, Pixma G2010
Why is it that the Canon InkTank models for home use like Pixma G1xxx, 2xxx, 3xxx always suffer from Air in the Ink delivery tubes?
Is there any particular reason for this to happen and why Canon doesn't do anything for this.
In the case of my 1week old Pixma G2010 which had a minor pressure leak and black ink went back around 1-2inch from the cartridge carriage assembly but that may have been my negligence and opening of the reservoir stopper. But I still have a minute air bubble that came into the system even after refilling the tubes.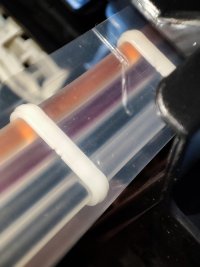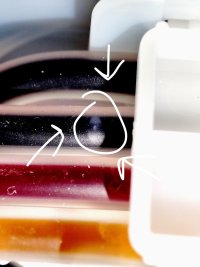 But take the case of my brother who has a G3010(2019 purchase) which supposedly is similar if not same as mine (for the printer part). His printer suffered from near empty ink lines and he only came to know when printer suddenly stopped giving out colours.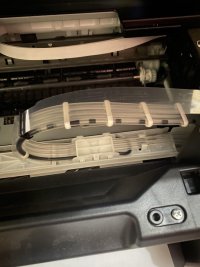 Image credit: fraivyu @Reddit. Issue was same as his.
The newer G2020, 2021, 3020 seems to have much lesser complaint about air issue but they have frequent paper jam up because of the maintenance cartridge taking up space below and the feeder path has to curve at a steeper angle compared to the G2010 and also their ink maintenance sponges fill up quicker.
Epson Ecotank on the otherhand has similar ink delivery system but still manages to have much lesser reports of air in the delivery tubes.
Can anyone throw some light on why this happens so often for Canon and not for Epson?
And also as users what one can do to prevent such headaches.
Last edited: