Joined

May 17, 2006
Messages

372
Reaction score

14
Points

153
Does anyone have any affordable storage solutions for keeping expensive letter sized paper from ending up with bent corners? Red River and Southworth have those chipboard boxes which are better than wrapped reams, but once you start using it up it'll end up crushed if stacked... but at least the box will usually keep the corners safe. One thing I'm trying to keep nice is HP Premium 32 lb laser paper and 40 lb Project Paper. HP's premium grades come in nice plastic wrapped reams but there is no nice way to open them that will hold the ream stable and keep the corners on the open end safe. I have metal letter sorters but they let the paper slide around when you grab some and also don't keep dust out.
I found 3 Darice Protect-n-Store holders at Walmart on clearance for $0.50 each years ago. I thought they looked really ridiculous (like clamshell packaging of Christmas toys you'd normally throw away!) but they actually worked rather well. They're currently holding some of the pricier cardstock I own. They hold the paper with reasonable tolerance to keep it from sliding around and bumping inside the box, but because there's no slot to get your finger in alongside the paper I suspect with thinner paper you might mess it up trying to get it back out. Plus the only places where they're even available anymore are hilariously expensive. ($24 on Amazon!) I found that they're actually made by a different company but they're only available as a large distributor order.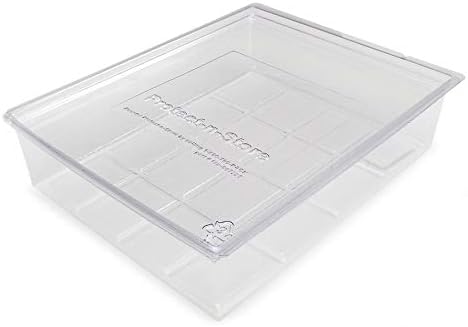 Most "stationery document boxes" (the old-fashioned looking things made with faux fabric coated chipboard that have a hole with a grommet on one end for some reason) are 9 x 12 or some other size that let the paper slide all around inside it if you move it. Iris makes some sliding drawers that only hold about 100 sheets of 20 lb copy paper so they're great for easy access of labels or small amounts of less used stock but not so good for storing an entire ream safely. Because some of this paper is expensive letter sized art papers I'm averse to using cardboard boxes due to the risks of rendering the paper non-archival.