Joined

Jan 18, 2010
Messages

12,097
Reaction score

5,755
Points

413
Location
Printer Model

Canon ? + 3D, CR-10.
After spending so much time reproducing my lamp standard (Twice) I figured it was time to strip down the CR-10 and do some cleaning, replacing parts and anything else I could think of because this girl deserves it after the ordeal I put her through.

Could anyone say that their inkjet printer could work day and night for 4 months solid without falling apart or at least needing, replacement parts, because when they built this Cr-10 they made a good one that's for sure, but it will still will need some replacement. (Fans etc.) !

But looking at my Ender 2 printer I decided to start with that one first, and completely revamp the way it looked and preformed, I wanted to use a bigger Hot end but the Firmware wouldn't take it, so I have to settle with the one it's got, and proceeded to smash it to pieces anyway.

I figured the CR-10 could wait a while and could act as back up for any parts I might need in my hours of craziness, and with the Chinese New Year being extended for health reasons, my replacement parts won't be shipped for another week or greater, so this project is going to take a bit longer than I taught.

Here is what I started with and how its looks now, but I'll post a few more photos when I get it complete and up and running again, (Mid-March) completion.. it's a pity I couldn't make the Hot end bigger, but I very nearly did buy an Ender 3..(Which is bigger)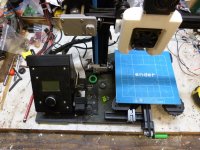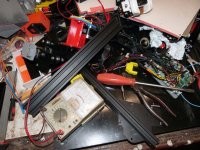 Click to enlarge..

P.S. @Redbrickman showed me how to upgrade my Ender 2 firmware, but that was a bridge to far for me..