As already reported on this forum by
@Manu
for the PRO10-S, I was able to reset the counter of a PRO-10.
1. Connect the printer via USB (it must be the only printer on the PC).
2. Start the printer in the service mode.
i. With the printer power turned off, while pressing the Resume/Cancel button, press and hold the Power
button. (DO NOT release the buttons.)
ii. When the Power LED lights, while holding the Power button, release the
Resume/Cancel button. (DO NOT release the Power button.)
iii. While holding the Power button, press the Resume/Cancel button 5 times, and then release
both the Power and Resume/Cancel buttons. (Each time the Resume/Cancel button is pressed,
the LEDs light alternately).
3. Start service tool 5204. You will see the printer serial number on top.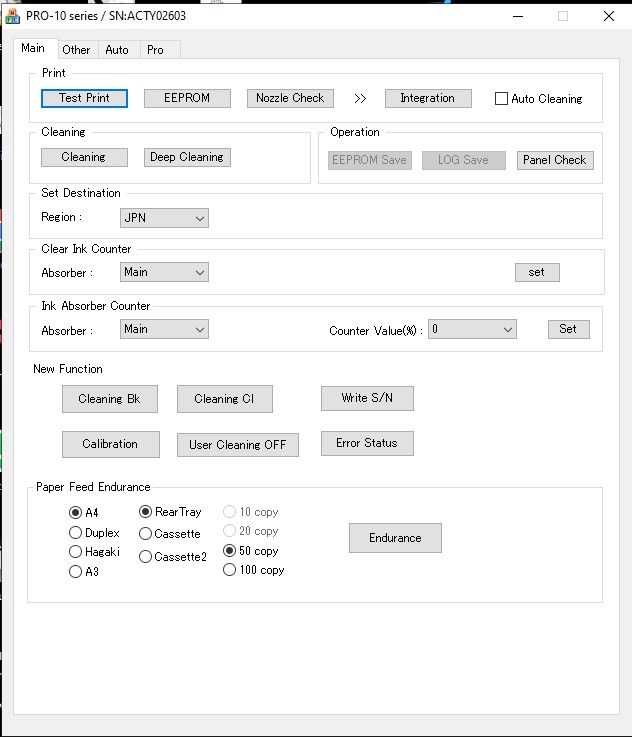 4. Place 2 pieces of A4 paper and press button EEPROM to print the actual status. On line 2 you will see D=999.9 indicating the percentage of waste ink accumulated.
5. Press button Ink Absorber Counter/Main/Set. You will receive a message a service has been executed.
6. Press button EEPROM again to print the new status. You should see D=000.0 now.
7. Close the service tool and power the printer off and on again.
Last edited: