I was able to reset my Maxify 5350 with service tool 5204.
Disregard virus warnings, it is a false positive caused by the hack code (most virus scanners have solutions for this).
First install the printer on the USB port (disconnect the LAN cable and desactivate the LAN on the printer screen).
Enter service mode with the usual procedure (5 pushes on the red stop/cancel button on the right).
Start service tool 5204 (you need to enter the key provided by the seller)
Check if you see the serial number on top.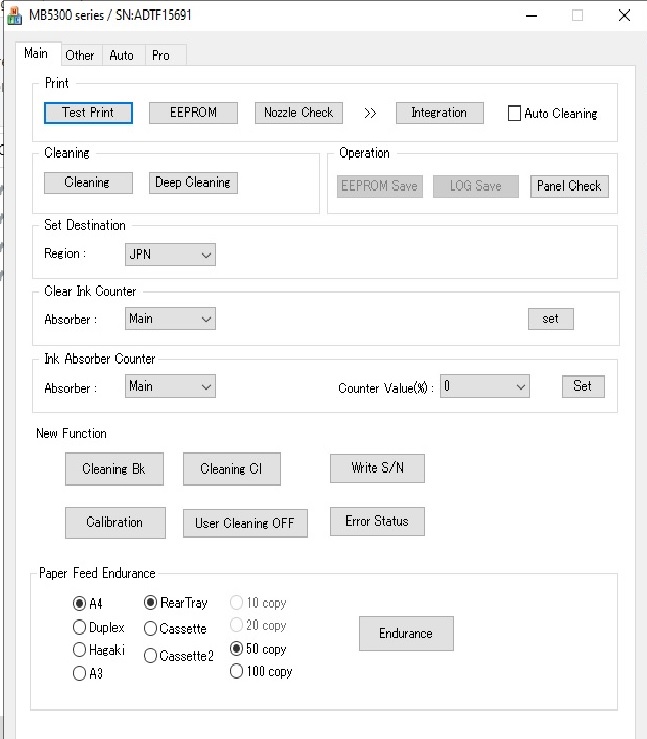 Execute the EEPROM print function (do not forget to select Cassette)
Execute the Ink Absorber Counter Set function
Print EEPROM again to verify.
Conclusions:
Most of my prints were A4 plain colour and half of them double sided, so I printed almost 25000 sides using about 2 liters of ink.
The ink absorber was 53.8%, I was expecting more capacity (although I would have reached 5 years of rather heavy use).
I am working on a solution to guide the waste ink to an external container (did this before with the MX7600 and PRO-9500).
This ST5204 seems to be fully functional and should be able to reset other printers - estimated unfeasible until now - as the PRO-10 (reported recently by
@Manu
).
Last edited: