Joined

Jun 30, 2009
Messages

70
Reaction score

26
Points

51
Location
Printer Model

Epson R3000 - PX720 - P50
Hello fellow printer addicts,
I am experiencing a rather strange issue with my Epson PX720 (basically a miniature Epson 1430): when printing in Photo RPM mode, I get random magenta stripes in medium-gray areas. They are barely visible when I print right after switching the printer on, but become progressively more visible when the printer is left on for some time before printing. It seems more like an excess of magenta instead of starvation of another ink.
The printer was bought secondhand and is loaded with fresh Inktec dyes. Either this is an electrical issue that creeps up when something heats up or it is related to ink rheology and temperatures inside the printer. Adjustments through the service prog make no difference. Quickly testing different inks is not that easy, as this printer has stationary cartridges, ink tubes and a pressurized delivery system...so there is a lot of ink stored inside the printer itself.
I included a few pictures of the paper-feed adjustment, where the issue is clearly visible. The nozzle check looks perfect to me without any differences between the "cold" and "warm" state.
Paper-feed printout when cold: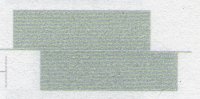 Paper-feed printout when warmed-up: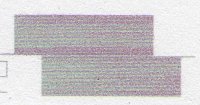 Magenta nozzles: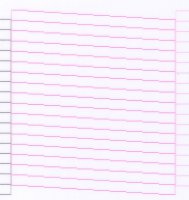 Anyone who can shed some light on this?
Cheers,
Wim