I am selling my Drytac JM 26 Laminator. It is in perfect working condition.
I have up sized my photo printer to larger paper sizes and have purchased a larger Drytac JM44 laminator. This machine performed admirably and is in very good condition.
The Drytac JM 26 is a cold roller laminator that uses pressure sensitive materials. 110 volt power. I have used the machine to mount inkjet photography to various substrates including MDF, Dibond and facemounted acrylics up to 24x72". Maximum width is 26"
The machine includes a foot pedal for control and if you look closely at the top roller in the photograph an optional flapper on the top that greatly enhances the process.
The machine can be demonstrated for serious buyers. Located in Denver, Colorado, USA
I can accept credit cards with chip. Or send an invoice via Square. A 30 day warranty can be provided for $50 additional.
I will crate and ship the machine for and additional $50 in the continental US.
Also available is a Canon ipf6300 is separate posting.
Contact: Me by PM...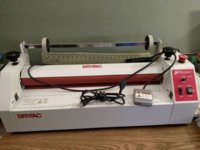 Edited: by Moderator...