Printer Master
Platinum Printer Member
Joined

May 7, 2011
Messages

1,947
Reaction score

934
Points

257
Location
Printer Model

All of them! LOL
About a year ago I posted something on printing on Canson Aquarelle / Water color paper 300 gram artist paper. You can get it at any art shop or at your local Michaels.
Last night I was there with my wife and decided to get a pad of 12" x 18" Canson WC
The last time I used it was to print some restored 70-80 year old scanned photos I did for a friend.
I printed them on my PRO 3800 with OCP K3 inks using the EPSON profile for "Enhanced Matte Paper"
The results were good but a bit flat which was understandable since the paper has no Ink Jet coating at all.
This time I decided to create a custom profile for it with the Colormunki.
Now what to print on it.
Though I have been painting with oils practically all my life I have been creating digital paintings for the last 5-6 years with Corel Painter and WACOM Tablet, using a Photographic image as my starting point and modifying it as needed for artistic effect.
I made sure the image file I chose had a full range of tones from a pure black ( 0 ) to areas of pure white ( 255 ) which would correspond to areas of no paint but what would be plain paper or Gessoed canvas.
Realizing that the paper I was using did not have an inkjet coating I felt I had to increase saturation a tiny bit ( 5 in Qimage ) bit as well as contrast ( 3 in Qimage ) and also did output sharpening with Qiamge's new Deep Focus Sharpening set a 2/100.
Printer was PRO 3800 / Enhanced Matte Paper / Quality 4 / Custom Colormunki Profile created using the same exact settings.
The scene is an outdoor café in Annapolis, Maryland.
I reduced the physical size of the image to upload.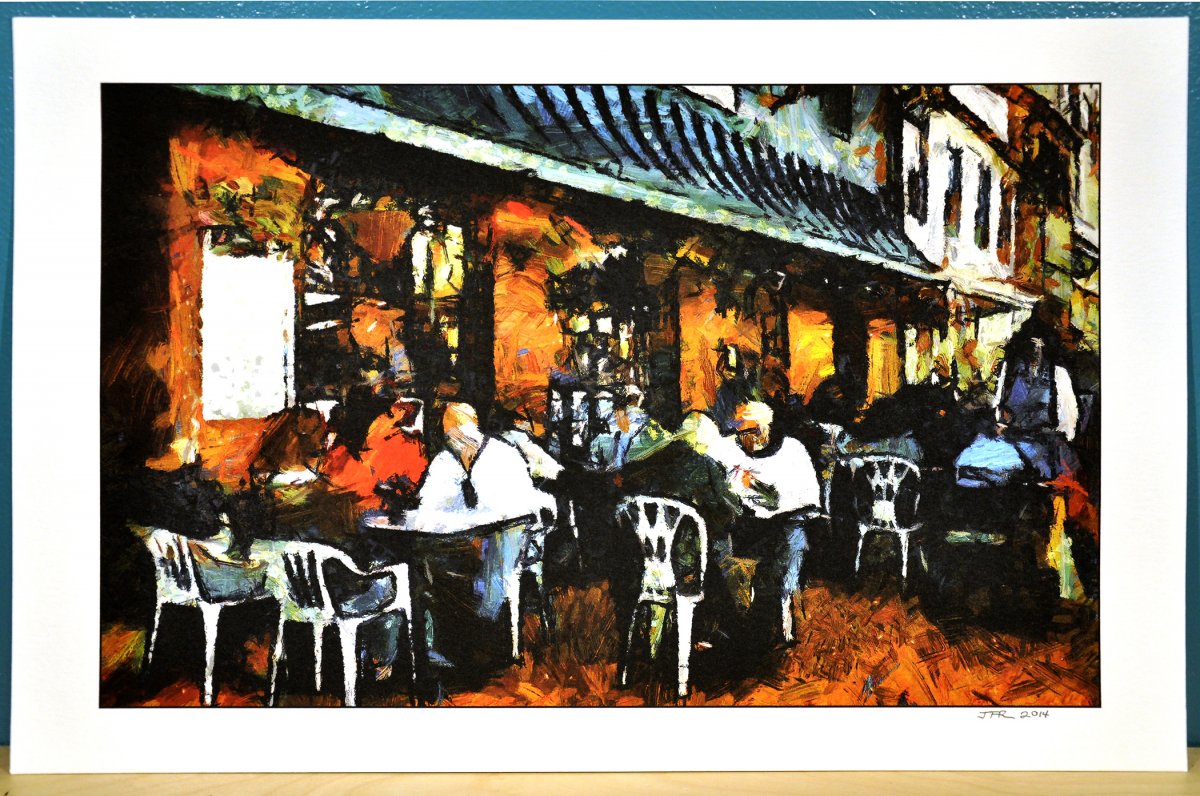 I lit the print with two halogen lamps and shot it with my Nikon D-90 with the normal kit lens on top of my Rotatrim against my blue wall. That is my signature in pencil on the lower right. The paper is nice and thick and just stands up with any need of support.
View:
original size
As you all can see the result is pretty darn good. Deep blacks, great contrast and saturation and clean, bright highlights.
Now for the best part. A pad of 30 sheets of 12" x 18" Canson Aquarelle / Watercolor 300 gram retails for only $20!!!
At checkout I gave the sales girl my email address and received a further discount!!! SO even without the extra discount I got this for 66 cents a sheet. It prints as good as say Red River Aurora white. Add the super low cost of OCP K3 inks ( I am paying on average about 4 cents per ml when purchased in pint bottles and I think I have found a WINNER combo!
What else could be done? Maybe a coat of protectant UV spray if it is not to be framed under glass!
Joe