Printer VIP
Platinum Printer Member
Joined

Nov 27, 2010
Messages

4,724
Reaction score

4,479
Points

353
Location
Printer Model

Canon MP980
A week ago I salvaged a Canon MP540, that showed severe clogging of the print head and possible electronic print head failure. The printer had a complete set of OEM cartridges that still were partly full, and a piece of paper was stuck inside the printer so the print head was not parked properly. After gently having removed the stuck paper,
in the normal direction of paper movement
, I did a nozzle check, click to enlarge: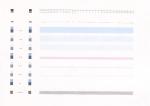 I then took out the cartridges and the print head and put a couple of folded soft paper handkerchiefs into a low rectangular tin and covered the paper with a couple of millimetres of
pharmacists cleaning solution
, so the liquid did not enter wrong places. I pressed the print head against the paper and released the pressure, much like a small-scale unclogging a drain. I changed the paper and liquid several times until almost no ink stained the paper. I then left the print head in the solution for around 24 hours before removing it and gently flushing behind the bottom of the ribbon cable with first demineralized water and then isopropyl alcohol to remove water, using squeeze bottles and
blunt
needles. I then dried the print head under a desktop lamp with a halogen bulb for a couple of hours, and monitored the temperature by touching the print head. As long as you can touch the print head without discomfort the temperature is below 50C/122F and safe.
As the print head contains one or more temperature feelers, I let it cool to room temperature before installing it.
After installing the print head and doing a few nozzle checks and regular nozzle cleanings I got this nozzle check, click to enlarge: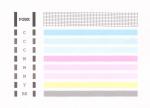 The extended nozzle check from service mode showed that some nozzles were still missing, so I turned off the printer and waited till next day before further testing. The extended nozzle check had improved with fewer nozzles missing, and by repeating the nozzle cleaning from the maintenance tab each day for a week, I now have this extended nozzle check, click to enlarge:

As the extended nozzle check seems to gradually improve, I will continue the daily nozzle cleanings and checks until no further improvement before starting printing other things than nozzle checks and service mode info.
According to the service manual some EEPROM items cannot be deleted, but take a look of this printout, I just made; I dont believe the printer was never used, and my nozzle checks were the first prints it made, the half used cartridges and the stuck piece of paper disproves that, click to enlarge: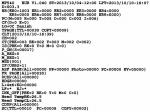 I hope this proves that not all clogged print heads are in equally bad shape, and that gentle methods for print head cleaning,
combined with a lot of patience
can sometimes work wonders.
Keep Phillips screwdrivers and dish washer powder away from Canon print heads.