Here I will try to answer this question, but first of all - why in hell would one even consider doing this?
Well.. DURABrite family of printers has evolved over the years tremendously. Years ago they were slow and primitive but now they have some very interesting printers among them which can attract some people. Some of the features that some of these printers have are even unique. For example Epson WorkForce WF-3620/3640/7610/7620/7110 printers have a huge number of nozzles - 800 Black, 256 for each color, which makes them very quick. Epson WorkForce Pro WF-4630/4640/5190/4530/4540/4090/4590 have fewer nozzles but have large capacity cartridges that range from ~19ml 786XL color to ~47ml 786XL Black / ~38ml 786 color Initial carts and built in CISS, which is very attractive for those wanting to print a lot and not muck around with refilling much (have to mention though, these printers don't do borderless).
Anyway, recently I experimented with my WorkForce WF-7610 printer to try to see if it's possible to get good photo output out of it and here are my findings.
Dye based black ink produces very low Dmax (not dense) black on plain paper, which looks more like dark gray, which in turn produces low contrast/pale looking images and text. For this reason all office printers use non encapsulated carbon black ink, which produces good to very good Dmax on office paper, depending on the quality of ink. OEM Epson DURABrite Black is absolutely amazing - it produces amazing black on plain office paper. None third party compatible black that I've tested comes even close, in fact with these one needs to use more expensive coated paper to get similar blackness of black. Color inks in these DURABrite printers are (unlike the black) resin incapsulated (more on that later), which explains why they produce pretty good but not great output on plain paper. Why didn't Epson go with non encapsulated pigment for color? I can think of two reasons -
1.They wanted these printers to produce acceptable photo output on glossy paper by using CMY inks. Had they gone with non encapsulated CMY pigments, printing on glossy papers would have suffered from horrible gloss differential and possibly scuffing and other issues.
2.Non resin encapsulated pigments are harder to keep suspended, they tend to bind together much quicker, creating large particles and potentially clogging nozzles. Such inks require much more maintenance.
It is known that dye color inks produce more saturated colors on plain paper than pigment, which is why in the past office printers used a combination of pigment black (non encapsulated) and dye color inks. However, dyes aren't water resistant on matte surfaces, which is why in the last few years we've seen departure from this pigment+dye combination in favor of pigment only ink sets. (BTW, if you own a DURABrite office printer, or for this matter any office printer that uses pigment, and want to make its output much more colorful and water resistance isn't important to you, you can simply replace pigment based color inks with dye based. In fact, you might have to tune the colors down a bit after that)
Ok, so why aren't these DURABrite printers very good at photo printing? It's because of these two facts:
1. Non encapsulated carbon black ink which DURABrite printers use creates matte surface on glossy papers, which looks ugly and which is why..
2. .. in photo printing mode (when you choose glossy papers in the driver) the printer uses color inks only (CMY) and omits black altogether, which solves the problem of gloss differential but creates another - black that you get by mixing CMY primary colors isn't very black, muddy, and this reduces saturation of colors and overall contrast of the picture.
Here you can see blocks of primary colors printed on glossy paper with original Epson DURABrite inks and Matte photo paper chosen in the driver (which uses black ink for printing black):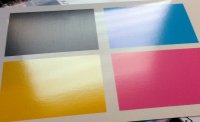 You can clearly see how glossy color inks are and how matte the black is. Here's a picture printed with these settings (matte photo paper):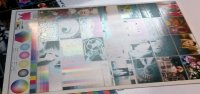 Horrible, isn't it?
Now, lets examine what happens if we choose glossy paper in the driver, forcing printer to mix CMY to print black (original Epson DURABrite inks):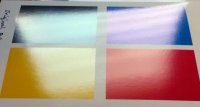 As you can see, gloss differential is gone, but the resulting black isn't very black (can't see on this photo).
There's another problem that arises in this printing mode (when glossy paper paper is chosen in the driver):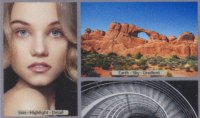 Horrible and very visible dot pattern.
To sum up. If one was to print photos on a DURABrite printer he/she would have a choice of either
1.choose Matte Photo Paper in the driver and get nice dark black, but horrible gloss differential + bad colors (this can be corrected through profiling, but GD not) or
2.choose Glossy Photo paper in the driver and get crappy blacks (especially with third party inks) and coarse/visible dot pattern but pretty good colors.
Can this be fixed? This is the whole point of this exercise. My idea was to replace DURABrite black with encapsulated black from another ink set and print choosing Matte Photo paper in the driver. Here are the blocks of primary colors after the replacement: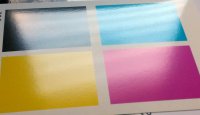 Black is nice and glossy.
And here's a picture printed with it: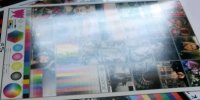 No gloss differential, looks nice.
And here's the close up (after calibrating):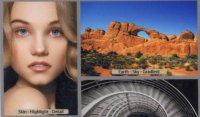 Compare with the original above printed in the same mode (Matte PP). Dot pattern is much smoother, invisible to the naked eye.
And in conclusion here are all three pictures printed on the same HP Glossy paper:
Original DURABrite Matte PP: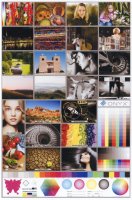 Pretty bad colors - this mode isn't optimized for printing on glossy papers, obviously.
Original DURABrite Glossy PP: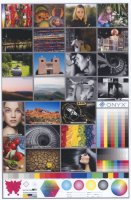 Colors are pretty good, blacks are dull.
DURABrite black is replaced with photo black from another ink set, printed with Matte PP chosen in the driver: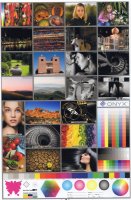 Conclusion - DURABrite printers can very well be used for photo printing, one just need to replace the original black with photo black, print with Matte PP setting chosen in the driver and profile the output.