Printer VIP
Platinum Printer Member
Joined

Jan 18, 2010
Messages

15,272
Reaction score

8,431
Points

453
Location
Printer Model

Canon/3D, CR-10, CR-10S, KP-3
Over the past couple weeks both my printers have rarely stopped printing and they are preforming remarkably well, I've had little or no trouble with them both, and the latest print runs are all over 24 hours plus.
I am putting this down to the new Petsfang I fitted to them both, they just don't look great, but they provide solid support for the hot-ends and an extra strong directional air flow over the filament.
The white Fang uses the standard fan and the yellow one has a bigger turbo fan fitted, but I can't find any great difference in either of the fan types, if I had to choose I prefer the white model with the centre mounted smaller fan.
Ender 2....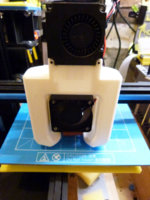 CR-10....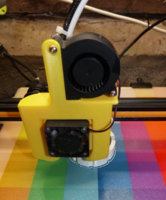 click to enlarge..
Curiously, I can run the PETG filament on the Ender 2 no problem, but for the life of me I can't get it to work successfully on the CR-10, that printer is more at home using the PLA filament, and so am I..